Obama to China: Dump the Car Tariffs
By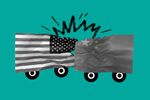 At a campaign stop in Toledo on Thursday, President Barack Obama announced his latest gambit in the race to demonstrate a tough line against China: a World Trade Organization case against the Chinese government's tariffs on American cars.
This is the seventh such case the U.S. has brought against China during Obama's tenure, and the location and timing are significant. Toledo, as my Bloomberg colleague Kate Brower reports, is home to a Chrysler plant that manufactures the Jeep Wrangler.
Chrysler is one of the companies the administration says is being unfairly hit by duties of as high as 30.4 percent on U.S. cars and sport-utility vehicles sold in China. China is one of the world's fastest-growing car markets, and U.S. companies sell more than $3 billion worth of vehicles there. The country imposed the tariffs in December, arguing that the U.S. was dumping vehicles at below world market prices.
The timing of the case matters here: It's part of a wider China strategy that the administration is pursuing aggressively in the runup to the election. Since Obama took office, the U.S. has launched WTO cases against China involving rare earths, steel, chickens, wind turbines, raw materials, and electronic payments. The administration has pushed for resolution on the cases. During the past month, one case, in which U.S. manufacturers accused the Chinese of unfairly subsidizing the country's wind-turbine industry, was resolved favorably; another case, which seeked to protect Pennsylvania steel manufacturers from anti-dumping tariffs, was upheld. Obama hopes the cases will stave off Republican accusations that the administration has dealt too softly with China because it has refused to call the country's monetary policy currency manipulation. (Mitt Romney has said he would label China a currency manipulator on his first day in office.)
Secretary of State Hillary Clinton is heading to Southeast Asia next week, where she'll push her foreign counterparts to get on board with an ambitious free-trade deal, of which the goal is to help cement U.S. power in the region—creating a buffer zone against China. She'll make stops in Japan and Vietnam, which is part of the trade deal, known as the Trans-Pacific Partnership. Japan has expressed interest in joining, and Clinton is currently in talks with officials there.
Some of the issues on the table are the special privileges China gives to state-owned enterprises. If foreign companies want to win contracts with the Chinese government, U.S. officials say, China often gives state-owned companies priority, even if it's not clear those companies are state-owned.
Clinton is hoping Southeast Asian countries will be anxious enough about China's increasing economic and military clout to see things her way. Obama is hoping voters will take notice.
Before it's here, it's on the Bloomberg Terminal.
LEARN MORE