Fire Drills for a Euro Meltdown
U.S. firms look to the Lehman bankruptcy for lessons
by and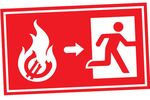 It's 9 a.m. on a Friday in June, and for an emergency response drill at Legg Mason's Baltimore headquarters, Greece has just abandoned the euro. Gathered around a conference room table, with team members from offices in London, New York, and elsewhere joining by video, 15 employees are given eight hours before markets open in Asia to assess issues such as whether they can execute trades, the status of the firm's investments, and how workers in European offices will be paid.
Almost four years after the bankruptcy of Lehman Brothers Holdings froze the financial markets, asset managers Legg Mason, State Street, Vanguard Group, and others are drawing lessons from that crisis to prepare for a worst-case scenario in Europe. They're assembling special teams and testing information technology systems to avoid being blindsided by the disintegration of the euro, however remote—or imminent—that possibility might appear. "We don't know what's going to happen but want to have all the tools to deal with whatever may happen," says Joe Carrier, director of enterprise risk at Legg Mason. "Post-Lehman, we realized that things that you would never imagine would catch you, did catch you."
State Street, which serves as custodian for $16.9 trillion in assets and manages $1.99 trillion for clients in its investment management unit, has set up two committees in the past year to prepare for fallout from a potential worsening of the European crisis, says Jack Klinck, Global Head of Corporate Development and Global Relationship Management. The first focuses on risk management, examining macroeconomic conditions as well as the company-by-company impact of various crisis scenarios. "There were a lot of lessons learned from 2008, especially in understanding counterparty risk, where assets are pledged, the value of collateral," says Klinck.
The second group at State Street looks at operational issues, especially those related to information technology. If one or more countries abandons the euro, securities may have to be redenominated, since national currencies could be readopted. Klinck compares the situation with getting ready for the so-called Y2K event, when computer systems had to be reprogrammed to handle the date change from 1999 to 2000.
At Vanguard, which is the world's largest mutual fund provider and manages about $1.8 trillion, a special team is preparing for the redenomination of securities as well as for potential restrictions on the cross-border movement of capital if a country leaves the euro, says John Hollyer, head of corporate strategy for the company. The firm's legal teams are reviewing contracts for references to currencies.
Nancy Prior, president of the money market group at Fidelity Investments, says the firm has convened meetings internally and with clients to discuss risks related to Europe. Fidelity, which manages about $1.6 trillion, is also preparing to post material on its website for individual clients should the crisis worsen, she says. Pacific Investment Management Co., manager of the $261 billion Pimco Total Return Fund, has been conducting stress tests for a variety of outcomes, says Andrew Balls, London-based head of European portfolio management. "Even if they don't happen you want to prepare for the worst," he says. "You don't want to be the last responder, you want to be the first responder."
Legg Mason started its preparations for a euro crisis in 2011 by evaluating how much of its portfolio would be at risk in Europe and forming the European contingency task force, which meets weekly for an hour and a half, Carrier says. The firm also reviewed who its clients were and where their banks were located. "These lessons are cumulative knowledge in the business," Carrier says. "Maybe not today, maybe not tomorrow, but they will be applied."
Before it's here, it's on the Bloomberg Terminal.
LEARN MORE