Eike Batista's Hair Apparent
The success of Brazil's wealthiest man has gone to his head
By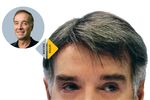 In August 2010, the Jornal da Tarde newspaper of São Paulo ran a photograph of Brazil's richest man, Eike Batista, seated next to the country's first lady at a charity auction where he bid $250,000 for a suit worn by then-President Luiz Inácio Lula da Silva at his inauguration. Scandal ensued, but it wasn't Batista's coziness with the executive branch that seized the public's imagination. It was the dark thatch on his head, where there once had been thin, receding hair.
The 55-year-old natural-resources tycoon, who is also a champion speedboat racer and the ex-husband of a former Playboy model, made headlines again this June when $4 billion of his net worth evaporated amid a market rout (dipping to as low as $19.6 billion, according to the Bloomberg Billionaires Index). Yet his hair remains a public preoccupation. In a TV interview following the 2010 auction, the journalist Marília Gabriela confronted him about his suddenly lush locks. "Tricosalus," he replied. "It's a capillary treatment—extraordinary—from here in São Paulo." He leaned over, tipping his head. "Want to touch it?" Gabriela demurred.
Alessandro Corona, a native of Rome who opened the Tricosalus Clinic in 2006, was backstage at the time. "Eike was so happy [with the treatment] that we had become friends," he says. Batista's public endorsement was good for business. "People came to me saying, 'I want what Eike did; I don't even want to know what it was.' " Corona says sales were up by 20 percent last year.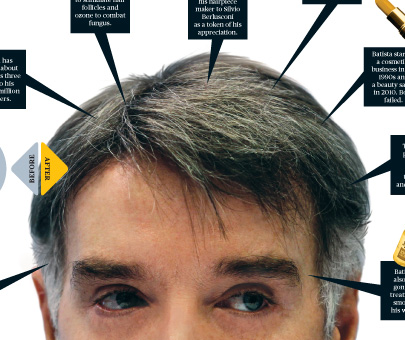 What goes into Batista's treatments remains a mystery. Corona rejects the word "wig" as both vulgar and inaccurate. He says his services cost between $3,500 and $35,000, depending on the size of the afflicted area and the length of natural hair to be used. The technology utilizes a breathable "second scalp" with hand-sewn, real human hair, designed to match the natural direction and consistency of the remaining growth. Once affixed to the head, it doesn't stray, though it must be professionally cleaned once a month to prevent the buildup of bacteria.
Corona says Batista no longer loathes displaying his head in public appearances. In an interview on the show Fantástico that aired on New Year's Day this year, Batista was asked about plastic surgery. "I've done my eyelids," he said. "I've done hair implants." Does he consider himself vain? "I like to take care of myself. I think that's normal."