China's Surprise Rate Cut
New attempts to stimulate lending
By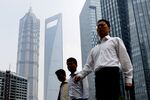 Just one week before China's second-quarter GDP number is to be released, the People's Bank of China has cut interest rates again, the second time in less than a month. The surprise move signals that policy makers are worried about the prospect of a hard landing for the world's second-largest economy, as growth continues to decelerate and two recent surveys show manufacturing growth slowed in June.  First-quarter growth was 8.1 percent, the slowest rate in almost three years. Earlier, investment banks had already lowered their estimates for second-quarter growth, with Bank of America expecting 7.5 percent and Crédit Agricole Corporate & Investment Bank as low as 7 percent.
The central bank will reduce the one-year benchmark savings rate by 25 basis points, to 3.00 percent, to take effect July 6, according to an announcement on the PBOC website. And it will cut the one-year lending rate by 31 basis points, bringing it to 6.00 percent. The move follows an earlier interest rate cut on June 7, the first since 2008, and three reductions in bank reserve requirements, since last November.
"This is a step beyond what was expected from policymakers. There was widespread anticipation that the required reserve ratio would be cut again soon, but most were expecting the next benchmark rate cut to be delayed until the end of July or later," said Mark Williams, London-based chief Asia economist at Capital Economics, in a note on July 5. One possible reason for the move is that "policymakers have had an early glimpse at the June data and not liked what they've seen. Reports in the last couple of days have suggested that lending by the major banks was lower in June than in May, when economic recovery depends on a rebound in credit growth," Williams said.
The move came less than an hour before the European Central Bank cut its benchmark interest rate by a quarter of a percentage point, to 0.75 percent, and lowered its deposit rate to zero from 0.25 percent. "Policymakers may have felt that cutting rates on the day that the ECB [was] widely expected to do the same would deliver a bigger impact, encouraging talk of a coordinated response to the slowdown in the global economy," according to Williams.
Also notable: the decision to allow banks to offer a discount of up to 30 percent below the benchmark rate when lending. That is up from the allowable 20 percent that became effective with the June rate cut. "The decision to increase the maximum discount allowed is significant. This was only increased from 10 percent at the time of the rate cut a month ago. This will further eat into bank profits but increases the effective amount of policy loosening," Williams stated.
Still, China's central bank signaled that policy makers will persevere in an ongoing effort to bring down property prices. "All financial institutions must continue to strictly implement a differentiated housing credit policy to continue curbing property buying for speculation and investment purposes," the central bank said in its interest rate statement.
The latest interest rate move follows what some have called the launch of a mini-stimulus, which was rolled out in early May following a spate of disappointing data in April. That has included sped-up approvals for water treatment projects, new airports, high-speed rail, and steel mills. "The easing of the policy stance will in coming months start to show up in the economic data," says Louis Kuijs, an economist at Fung Global Institute in Hong Kong. "The labor market is holding up well and consumption is holding up well too. It is really hard to say when growth will pick up—whether it will be in the third or fourth quarter—but growth for all of this year will still be 7.5 percent or 8 percent, and that constitutes a soft landing," says Kuijs, who formerly was the chief China economist at the World Bank in Beijing.