A Stock Market Rally Invisible to Many
By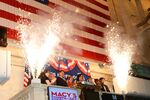 For all the sturm und drang of what is now a fifth year of planetary economic malaise, U.S. stocks are so far pulling in a solid 2012, danke.
The Standard & Poor's 500 index is up 9 percent this year, through Thursday. Since its March 2009 cratering, the benchmark has more than doubled. The tech-centric Nasdaq is up 15 percent. S&P 500 earnings, which have beaten projections for three years, are on the brink of crossing $100 a share for the first time in 2012 and are forecast to jump another 13 percent next year. The market's actually on pace to have itself a sanguine election-year pop.
The bigger—and indefatigably relentless—story is that no one much cares. More than $190 billion has been yanked from American equity funds in the 13 months through May, according to the Investment Company Institute. And since this seemingly imperceptible bull market started a little over three years ago, investors have taken out a staggering $300 billion. "A lot of investors are just frozen, unsure what to do, so they do nothing," says Howard Ward, who helps oversee $35 billion at Gamco Investors. "There are no raging bulls looking to leverage up on margin and risk their savings. Everyone is cautious, with some more so than others."
The market's average price-earnings ratio of 13.8 in the first half of this year is 16 percent lower than the mean since 1954. U.S. trading has plunged to 6.8 billion shares a day, down 44 percent in less than four years, according to data crunched by Barclays and Bloomberg. There's been no shortage of trauma behind that kind of evacuation. The last time Americans truly piled into equities was before an eight-year span that wrought a dot-com crash, accounting and Wall Street scandals, and a once-in-a-generation economic meltdown.
A lost decade later, even hardened institutional investors have to dig deep to keep the faith. "Staying the course: That really is the key to this job, right?" says Jenny Van Leeuwen Harrington, chief executive of Gilman Hill Asset Management in Westport, Conn.
"Look through the noise and don't get rattled. It's important to step back and quietly assess where things really stand," she says. "For example, if some countries do default, that is a normal course of events in the aftermath of a financial crisis—it has happened before, it will happen again, and the world ultimately gets through it in a pretty functional way. I take that kind of worst-case scenario and say, O.K., what happens to industrial warehouse rents if that happens? What happens to the sales of snow-plow blades in the U.S.? What happens to the fees for midstream pipeline usage? I think the days of easily digestible news are over."
And what of a 9 percent year? While it might seem decidedly meh for people who came of age expecting twice that annually, it's actually quite consistent with the long run and ahead of the little more than 7 percent a year it takes to double your money in a decade. Try hitting up a bank CD these days for a sliver of that.
Before it's here, it's on the Bloomberg Terminal.
LEARN MORE