Taiwan's Big Brand Problem
Consumers know little about their companies
By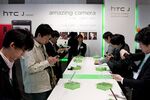 HTC (2498:TT), the Taiwanese company that is one of the leading makers of Android-powered smartphones, is the controlling shareholder in Beats Electronics, the Santa Monica (Calif.)-based producer of high-end headphones founded by rap producer Dr. Dre and Jimmy Iovine, the chairman of Interscope, Geffen and A&M. You wouldn't know that, though, from the statement Beats issued on July 2 announcing its acquisition of MOG, an on-demand music service. The announcement trumpets the importance of the deal for Beats—and does not mention that the California company is part of HTC, which bought control of Beats last year.
The omission is just a small indicator of a problem that HTC and other Taiwanese companies face as they try to survive as consumer brands. Taiwan is an important part of the global economy, thanks largely to its electronics industry, and the backbone of the industry has long been companies that produce computers, chips, displays and other components for others. The classic example of a Taiwanese company that does this sort of work in the background, without putting its own brand on the finished goods, is Foxconn (2354:TT), which makes iPhones and iPads for Apple.
Over the past decade, HTC and a few other Taiwanese companies have tried to change the model and move into the spotlight themselves by building their own brand names. For a while, they enjoyed success. HTC was the top producer of Android smartphones while Acer (2353:TT) and Asustek (2357:TT) forced their way into the top tier of computer makers.
Now the Taiwanese attempt at brand building is in trouble. HTC has stumbled as consumers have gravitated toward two brands, Apple and Samsung (005930:KS), while China's Huawei Technologies and ZTE (763:HK) have made their moves with inexpensive smartphones. In the first quarter of this year, HTC shipped 6.8 million smartphones, down from 10.2 million the previous quarter and from 9 million in the first quarter of 2011. Meanwhile, HTC's major Android rival, Samsung Electronics, has been on a roll, growing from 11.4 million smartphones in the first quarter of 2011 to 44 million in the first quarter of this year.
The picture won't soon be getting much brighter for HTC, with the company on June 25 telling Bloomberg News it was closing its R&D office in Durham, N.C., and on June 22 confirming a report that it was shutting its office in Brazil. HTC on June 6 cut its sales forecast for the second quarter by 13 percent, citing the European debt crisis and ongoing patent battles with Apple. The revision "reflects the struggle that many Android vendors have in trying to establish a solid brand image and market effectively against giants such as Samsung, Huawei and ZTE," Bloomberg Industries analyst John Butler wrote. HTC's stock price is down 21 percent so far this year.
HTC isn't the only Taiwanese brand getting overshadowed. Before Apple launched the iPad, Acer was hot, passing Dell to become the world's second-ranking PC company behind only Hewlett-Packard. Acer's rise stemmed from its dominance in netbooks—small and inexpensive laptop-like computers—but the iPad and Samsung's Galaxy tablet have hurt demand for netbooks and other laptops.
Even as Acer has struggled to come out with a tablet to match the iPad or Galaxy, Samsung is now becoming more of a threat in Acer's core PC business. "Samsung has stealthily risen in the market share league tables, like the shark in Jaws but without the ominous music," Sanford Bernstein analyst Alberto Moel wrote in a recent report. "Samsung needs to be closely watched." Acer's stock price is down 12 percent this year.
Even a Taiwanese company that is managing to do well with investors points to the challenges of building and sustaining a Taiwanese brand. Asustek's stock price is up 27 percent since the start of 2012. One reason investors are excited: Asustek is teaming up with Google for the new Nexus 7 tablet. Still, becoming junior partner to an American giant is unlikely to be a long-term solution for Taiwan's struggling brands.
Before it's here, it's on the Bloomberg Terminal.
LEARN MORE