Samsung's Smartphone Pitch Fuels Mobile-Ad Boom
By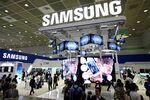 Samsung Electronics (005930:KS), eager to retain its lead over Apple in the smartphone market, will soon deliver discount offers to the very iPhones it wants consumers to ditch. In the next few weeks, some users of the latest version of Apple's handset will get a marketing message offering as much as $300 to people who trade it for a Samsung device.
Samsung's strategy is helping fuel a boom in mobile advertising, which Bank of America Merrill Lynch predicts will surge to $18.3 billion in 2015, from $3.6 billion last year. Target, American Express, and Coca-Cola are also rushing to woo the more than half of U.S. adults who own smartphones. Their spending is vital to companies like Facebook, which has yet to make much money from people who are too busy socializing to heed ads on small, handheld screens. "You're dealing with so many fewer pixels that being able to articulate the brand promise and the offer is challenging," says Colleen McDuffe, director of digital marketing for Samsung Mobile USA. "It needs to be exclusively built for mobile."
Even as smartphones account for 10 percent of the time consumers spend consuming media, they draw only 1 percent of advertising spending in the U.S., according to researcher EMarketer. Samsung says it has no trouble getting a marketing message across to users of wireless handsets. Samsung's U.S. division doubled its mobile marketing and advertising spending in the first quarter, to 10 percent of the total. While mobile ads cost about one-seventh the price of an advertisement on a desktop computer, they're generally twice as effective, McDuffe says.
Other companies have yet to be convinced that ads on handsets can be as effective as those on traditional computers. It's harder to measure the success of a mobile-marketing campaign, says Jay Henderson, strategy program director for IBM's Enterprise Marketing Management group. "They're not as certain about the return on investment," he says.
A further challenge is deciding where to spend the money. Marketers can work with mobile-ad networks such as Google AdMob that place ads on various sites tailored for handsets. Automaker Chrylser Group is one case in point, using AdMob to place promotions that show up alongside mobile search results. A marketer can also go directly to the Web companies that specialize in social media and seek to profit from advertising.
American Express favors Foursquare Labs, the startup that helps people share whereabouts with friends. AmEx delivers coupons that can be redeemed at a location where a person has used Foursquare to check in. Retailer Target depends on Shopkick, a mobile-phone software provider, to send coupons to shoppers as soon as they enter a store. Coca-Cola uses a Facebook service that lets it insert marketing messages in the news feeds of people who indicate an affinity for its soft drinks.
A concern for some companies is that would-be customers won't be swayed by irrelevant ads that crowd out other content on small screens. Pandora Media, the online radio service, may get around that issue because its ads fill a smartphone screen while music plays. Users engrossed in a song don't mind seeing a full-sized ad on the screen, says Pandora Chief Marketing Officer Simon Fleming-Wood. Some ads include audio with on-screen graphics. Pandora's application, which can be downloaded onto smartphones, generated more than $100 million in mobile-advertising revenue in 2011, Fleming-Wood said.
The sheer range and complexity of options give some companies pause, says George Bell, chief executive officer of Jumptap, which—like Apple, Google, and Millennial Media—runs a mobile-ad network. "It's not unusual for us to run an ad campaign with several thousand permutations to it," Bell says.
Mobile advertising is a far cry from television, where history can dictate what kind of time slot to buy on what network, says Mike Parker, chief digital officer at McCann, the advertising agency network arm of McCann Worldgroup. "Marketers are under pressure to justify the return on all the dollars they spend," he says. He tells his clients to set aside "test and learning" money.
Coca-Cola is experimenting with a range of options. Mobile advertising will play a role in helping the Atlanta-based company achieve a goal of doubling revenue to $200 billion by 2020, says Wendy Clark, the company's head of integrated marketing and communications. Efforts range from promoting restaurants that offer a Coke deal alongside search results to making bottle caps that ask users to win prizes by sending text messages.
Smartphones already drive 5.1 percent of U.S. retail store sales, or a predicted $159 billion in sales for 2012, according to Deloitte. By 2016, that share will grow to 19 percent, or $689 billion, Deloitte says. The majority of mobile advertising is in search or display—mirroring desktop options—with further possibilities still in early phases. Facebook launched mobile-sponsored news feed stories earlier this year. Foursquare won't make money off its 20 million users until it rolls out advertising products in the next few months, says Chief Marketing Officer Steven Rosenblatt.
Even if Samsung can't win over Apple users, it has already shown success with mobile messaging in other ways. Using New York Zip Code targeting on Facebook, Samsung held a contest to choose invitees to a June 20 party featuring electronic music artist, Skrillex, in honor of its newest phone, the Galaxy S3. The number of people lured with the targeted messaging, McDuffe says, was 1,500.
Before it's here, it's on the Bloomberg Terminal.
LEARN MORE