Rev. John Brooks Changed Lives and History's Course
by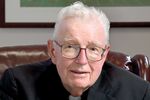 Clarence Thomas and Ted Wells are not prone to letting emotions overwhelm then. And yet I've seen both of them—the Supreme Court justice and the top trial lawyer, respectively—fight back tears when talking about one man: Rev. John Brooks, S.J. Father Brooks transformed their lives when they were at the College of the Holy Cross in the late 1960s, and he remained their mentor and friend until Monday. On July 2, Brooks died at the age of 88.
My first reaction upon learning about his death was to smile. On June 8, when I sat with him for a few hours to catch up, he had a stack of summer reading piled up and was screening students for a coveted spot in his theology seminar. A day earlier, he had felt too weak from cancer to take part in an event for Fraternity, my book about Brooks's role in mentoring Thomas, Wells, and other members of the first group of black men he recruited to Holy Cross. But on the 8th, he was in a cheerful mood as he talked about his memories of the late 1960s, the evolution of theology, and the state of college sports and education.
My smile was from reflecting on how Father Brooks lived. He was planning his seminars with the zest of a first-timer and spoke about an upcoming January event as if it were merely outside the current year's calendar and not his lifespan. What motivated him, I think, was not denial but gratitude. He treated each day as another opportunity to make an impact. He didn't have a static view of theology; arguing ideas had to evolve. Nor did he have a static view of people.
To Brooks, everybody had the potential to be a leader. It's what made him push to admit women to Holy Cross in fall 1972 in one of his first acts as president. He had personally set out to recruit black students with full scholarships in late 1968. In one trip to Philadelphia, he committed the school to funding $80,000 in scholarships at a time when its entire endowment was just over $1 million.
It turned out to be money well-spent. The men who arrived that year included not only Thomas and Wells, but future investment banker Stan Grayson, Eddie Jenkins, who would play in the NFL for the Miami Dolphins, and Edward P. Jones, who would become a Pulitzer Prize-winning author. The arrivals also included Jaffe Dickerson, now a top lawyer, and Gil Hardy, later a brilliant lawyer who died young in a scuba accident after introducing Clarence Thomas to Anita Hill. Father Brooks found money to keep Malcolm Joseph from leaving school, enabling him to become physician on Air Force 2. Many more students—black and white, male and female—felt the impact of Father Brooks over the course of their college years and beyond.
To Brooks, affirmative action was about opportunity. What people did with that opportunity was up to them. That doesn't mean he left kids to sink or swim on their own. He understood the importance of social support—whether that meant a "black corridor" where African American students lived together, plus a van for them to get off campus, or the importance of being available when they needed to talk.
Ted Wells says Father Brooks made it clear that, at the very highest levels of the administration, people cared about their success. For Thomas, Father Brooks was a coach, a teacher, a mentor, a spiritual guide, and a friend. "He believed in us but he also understood that we were kids," Thomas once told me. "He was a great man. He saved my life." Many others can no doubt say the same.
Before it's here, it's on the Bloomberg Terminal.
LEARN MORE