Jobs Report (Part Trois)
by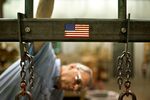 The problem is that the S&P 500 is highly correlated with ISM prices paid. While generally speaking, low prices paid are good until they are too low, and then it's bad. The risk is we have just hit the so-low-it's-bad level. Position: Short SPY.
—Douglas A. Kass, Seabreeze Partners Management, "Manufacturing Misses (Part Trois)," July 2, 2012
Mr. Kass puts money-where-mouth-is and looks for lower equity prices.
The distinction between a constructive trend (in this case, lower prices benefiting business) becoming destructive (said rate-of-change signaling moribund economy) is why the collective Street hangs on each and every Kassian word.
The above, combined with Macroeconomic Advisors's gross domestic product tweak—to 1.6 percent—gives pause.
There is a set of reports coming Friday on the American labor economy. I believe the last two have been in the vicinity of the so-low-it's-bad level.
I am concerned, generally speaking, that Friday will bring "Jobs Report (Part Trois.)" Discuss.
Before it's here, it's on the Bloomberg Terminal.
LEARN MORE