Coca-Cola Gives Facebook Global Reason for Boosting Mobile Ads
By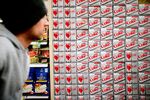 Coca-Cola executive Wendy Clark is using her role as a Facebook adviser to outline what she says is a top reason the social networking service needs to get mobile advertising right: reaching emerging markets.
Consumers in developing economies are more inclined to use handheld devices than traditional computers. So to reach customers in such regions as Africa and parts of Asia, Coca-Cola has to make mobile ads work on commonly used sites. "Facebook is the Internet for them," says Clark, a senior vice president of marketing at Coca-Cola who serves on Facebook's council of ad clients. "If you start to cut into emerging and developing markets, the mobile phone is the easiest and most direct medium that we can reach consumers with."
Facebook said during the runup to its initial public offering that growth in ads is lagging behind gains in its number of users as more people socialize on mobile phones. Turning the tide will be crucial as the company seeks to step up growth, reverse a 19 percent share-price slide—and keep the loyalty of customers like Coca-Cola that aim to win business with social media ads. "We're definitely looking at Facebook's penetration and growth rate, and certainly for a global multinational like us, we're very interested in them growing across the world," Clark says.
Mobile ads, which Facebook started earlier this year, can help annual revenue more than double to $8.68 billion by 2014, from $3.71 billion last year, estimates JPMorgan Chase. Much of that sales growth will probably come from developing nations. In economies other than the U.S., Canada, Europe, and Asia, Facebook's market penetration will be 64 percent by 2014, up from 48 percent last year, Doug Anmuth, an analyst at JPMorgan in New York, writes in a June 27 research report. Emerging-market sales, primarily from mobile ads, will more than quadruple to $1.36 billion over that period.
There are about 5.98 billion mobile phone subscriptions worldwide, including about 4.52 billion in the developing world, according to the International Telecommunications Union. Mobile penetration rates are about 79 percent of the population in emerging markets, where only 25 percent of households have computers.
Available in more than 70 languages, Facebook sells ads to many of the world's biggest brands, including Nestlé and Ford Motor. The social network had 488 million mobile users at the end of March, with 83 million accessing the site only on mobile devices, according to a regulatory filing.
Carolyn Everson, Facebook's vice president of global marketing solutions, says global chief marketing officers very much want to talk about areas like Southeast Asia, India, and Africa. "They are seeing that their next hundred million or billion consumers are mostly coming from developing countries where mobile is not just the dominant, it is often the only way that people are accessing these companies," she says.
Facebook opened an office in Dubai in May and Buenos Aires in March. When Everson joined in February 2011, there was one salesperson in Latin America. Now the region has several dozen, and the team is growing, she says. To capture more consumers in the developing world, Facebook is expanding beyond smartphones to more basic devices. Last year it introduced an application for more than 2,500 more basic phones from such companies as Nokia, Sony Ericsson Mobile Communications, and LG Electronics. The app is available in markets including Romania, Tunisia, and the Dominican Republic.
The simpler phone models don't yet have Facebook ads. Jay Altschuler, global media director for Unilever, says he sees the potential for using the devices to reach users. "We sit in villages and talk to consumers about media habits," Altschuler says after observing the devices in widespread use in agrarian parts of India outside Delhi and Bangalore. "They may not even have a roof over their house, but the one thing they do have is a mobile phone." Unilever, the maker of Lipton iced tea, Dove deodorant, and Vaseline skin lotion, gets more than half its business from developing countries, he says.
While Facebook generated $3.15 billion from advertising sales last year, none of it was from phones. Facebook announced plans for mobile ads in February, and the company hasn't provided statistics on whether they work. Facebook has said revenue growth may slow because of a lack of mobile advertising and that its ability to profit from that source is unproven.
For now, Unilever and Coca-Cola are taking advantage of the only kind of mobile advertisement Facebook offers: a sponsored post on a user's news feed, mixed in with the other updates from friends, like a relationship breakup or a set of graduation photos. With work to do, Everson says her job is "mobile-first." She's meeting with the company's top marketing partners at least weekly, discussing ways to make advertising social. "In these countries, it's literally Facebook," she says.