Have You Stolen Something From the Waldorf-Astoria?
By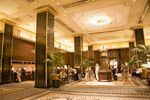 Is your grandmother a thief? If she—or your grandfather, or your parents, or your siblings, or you—took something from New York City's famous Waldorf-Astoria Hotel sometime between its 1931 opening and 1960, the luxury hotel wants it back. On July 2, the Waldorf-Astoria launches its "Amnesty Program" for all its sly, sticky-fingered guests who in their old age are having a change of heart. Meg Towner, the hotel's social media manager, spoke to Bloomberg Businessweek about the program, what the Waldorf-Astoria wants to do with these reclaimed items, and what happened to Frank Sinatra's shower doors.
Why does the Waldorf-Astoria suddenly want its stuff back?
In the past couple of years, we've launched a digital archives website, which you can see at waldorfarchive.org. Right now we mostly have old black-and-white photographs on there. We found that people use it as a research tool and are fascinated by the hotel's history, so we want to build it up. But our collection of physical items isn't as vast as our collection of photos. We have a few items on display in our hotel lobby—some wine glasses, dinner plates, old room keys, things like that—but it's not very much. We know there are treasures out there that belong to the Waldorf; we see them going up on eBay all the time. We'd like them back, and we'd like to know where they came from. Maybe your grandfather used to work at the hotel and came away with a serving dish, or your mother had her debutante ball here and ran away with a sugar bowl.
Before you started this program, did people ever return stuff on their own?
People do come to us and hand back items out of the goodness of their hearts. Someone recently called us and said they had a recipe book from the Waldorf-Astoria and was this something we'd want to display? If we get items back, we'd like to know the story behind them: Did you find it in an attic, did it sit on the shelf for years?
Why didn't the Waldorf-Astoria keep this stuff until now?
I think that when we see an item every day, we don't think of it as particularly valuable. There are these little jars that hold Gummi Bears in our mini-bars. We see them all the time now, so we might not think to save one, but in 50 years someone is going to be interested to look at one.
Why the 1960 cutoff? If someone comes to you with a serving dish they stole back in 1985, are you really going to punish them?
No, of course not. It's just that we have more of those items—stuff from the 1970s, '80s, and '90s. It's the earlier stuff we need.
What are some of the hotel's cooler possessions?
We have a display of room keys that's just fantastic. It's my favorite. Now we use plastic key cards, but a long time ago, we had actual, old-fashioned keys with numbers attached to them. We have 1413 rooms in the hotel. That's a lot of keys changing hands.
And of course we also have items from Oscar, our famous maître d'.
You have a famous maître d' named Oscar?
He was known as Oscar of the Waldorf. He's famous because he made a lot of culinary firsts. He wasn't a chef, but he did invent the Waldorf salad and the Oscar veal. He even produced a cookbook with his name on it. There's even a rumor that he invented Eggs Benedict as a hangover remedy for a guest.
Is there anything that the Waldorf-Astoria has lost that it's hoping to get back?
There are rumors of famous things that have gone missing from the hotel. Shortly after Cole Porter's death in 1964, Frank Sinatra and his wife Barbara moved into his old suite at the Waldorf Towers for the pricey sum of $1 million per year. They left in 1987. It's rumored that their monogram shower doors went missing during a renovation. We'd love to have those back.
I have one last question, but it's not related to the Waldorf specifically. You know how hotels have those really nice terrycloth robes, and they always come with a little note that says not to steal them and that they're available for purchase in the gift shop?
Yes. We do have that at the Waldorf.
Well, does anyone really steal a bathrobe?
Ha! No. They don't go missing very often. There are two robes to every room and our housekeepers keep track of them, so they'd know if one disappeared. Plus, they're kind of big. I don't think many people would have room for them in their luggage.