Greg Stohr & Erik Schatzker
By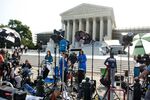 A business is also a system. –Systems Analysis, Wikipedia
Schatzker grabbed the headline and used it to make the statement transcripted above. The anchor worked at Bloomberg News for nearly a decade before anchoring, and he said through a company spokesperson that such experience afforded him a high degree of confidence in how the headlines are generated. " He knows how much time, preparation and care go into getting them right," says the spokesperson.
–Erik Wemple, Bloomberg Nails Supreme Court Story, The Washington Post, 28 June 2012, 6:00 PM.
In my fancy leather wallet, I have pasted my simple security badge the day, years ago, when I visited Apple. Bloomberg on the Economy was a success and the good people of Cupertino had me out to chat.
Three days later, through walls of security, we screwed up and released Mr. Jobs' obituary. Steve was very alive; all of Bloomberg were very embarrassed.
I carry that badge as a badge of humility.
Which makes it all the more special when you get it right. "You" would be our Washington legal team and news bureau led by Greg Stohr and the real-time focus and work of Erik Schatzker of Bloomberg Television.
I had just come off working and stood on our New York TV floor staring in amazement at the Twitter feed. (What social media has done is simply earth-shattering.) Through the din across the floor I could make out Erik's voice attempting to slice, dice and interpret Greg's headlines.
The system analysis that makes up Bloomberg Headlines is original (thank you Team Reynolds.) So too, is the rigor that Matthew Winkler imposed in the era of the quill, years before the digital and social media age. Were Bloomberg headlines the precursor to Twitter?
We have all learned lessons in this latest and Supreme digital frenzy.
My lesson? Twitter may be earth-shattering but it is no substitute for the "high degree of confidence" I have in Greg Stohr & Erik Schatzker. Discuss.
Before it's here, it's on the Bloomberg Terminal.
LEARN MORE