ForumWatch: Is the MBA Worth It?
Francesca Di Meglio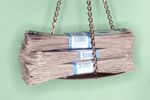 The debate about whether the MBA is worth the time, energy, and money is as eternal as the seasons, nowhere more so than on the Bloomberg Businessweek Business School Forums. It is an argument that every MBA applicant must at some point consider. After all, a full-time MBA program is a huge investment, requiring students to take on debt, move to a new place, and spend a year or two without a salary. Even EMBA and part-time programs come with some sacrifice, including hefty tuition.
Recently, MBAWORKS asked if there would be value in pursuing the degree. One respondent pointed out that it is truly a personal decision, one that MBAWORKS and others in the same position will have to make on their own. Still, it makes sense to ask others about their experiences, what the MBA achieved for them in terms of career advancement, and what they got out of the education. To share your thoughts, visit the "MBA Required—Why for IT Professional?" discussion thread.
Editor's Note: This blog post is part of a series about discussions taking place on the Bloomberg Businessweek Business School Forums, where prospective MBA program applicants, current students, and recent alumni trade admissions tips, job-hunting advice, and the occasional barbed comment. We invite you to join these discussions or start one of your own.