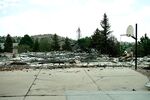 This is remarkable—and depressing. Colorado is, as most people know, an important swing state in the presidential election. It is also engulfed in apocalyptic wildfires that have consumed about 18,000 acres and driven hundreds of people from their homes. Naturally, most Coloradans are raptly tuned to their local news trying to figure out what's happening.
This presents the presidential campaigns with a rather ghoulish dilemma. On the one hand, they're each vying to win the state, are relying heavily on television advertising, and have a huge captive audience. On the other hand, exploiting the tragedy for political gain is unseemly. So what are the campaigns doing?

They're exploiting the tragedy for political gain. According to CMAG, an independent service that monitors political advertising (Bloomberg is a client), both campaigns are flooding the airwaves with negative ads. From a report by CMAG's Harley Ellenberger:
"Of the 1,868 occurrences of negative presidential ads in Colorado Springs thus far in June, aired by both sides, 57 percent ran during the last 10 days (June 18-27). Twenty-six negative occurrences aired on June 9, the day the High Park Fire began; 45 negative occurrences aired on June 16, the day it was announced that the fire had become the largest in state history. On June 25, a day after 248 homes were destroyed, 105 negative ads aired. Between June 18-27, occurrences of negative spots broke 100 on seven of the 10 days. The biggest spike so far for both sides was last Friday, with 172 total."
Just last Friday, President Obama visited Colorado Springs and assured people that the wildfires were bringing everyone together like "one American family":
Before it's here, it's on the Bloomberg Terminal.
LEARN MORE