The Heroic Odyssey of Coca-Cola Hellenic Bottling
by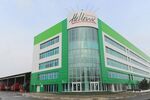 These days, the idea of a Greek guarantee is pretty much oxymoronic—a word likely derived from the Greek, oxýmōros. Trusting in the sovereign debt and bank deposits of this weakest EU link requires chugs of Pepto (another Greece-originated word). Indeed, Greek citizens with once super-safe public-sector jobs live in perpetual fear that their wages will be snipped, if not scotched outright.
So who would be crazy enough to take a flier on a Greek stock? After all, the Athens Stock Exchange general index has tanked 90 percent since 2007, and MSCI, the international index maker, may insult the gravely injured nation by downgrading Greece from developed market status to that of emerging market.
But if economic collapses in places like Mexico, Russia, and Southeast Asia are any precedent, not all Greek assets are spiraling toward worthlessness. You can buy a thing or two there with a margin of safety. Consider: The country is home to Coca-Cola Hellenic Bottling, the world's second-largest bottler of what is arguably the planet's most-recognized consumer brand, along with 90 other beverages it pumps out of more than 75 factories across Europe.
Although Hellenic has the misfortune of being based and listed in Athens with the tragic ticker EEEK:GA (it also trades in the U.S. and London), it is a 40,000-employee multinational that sells 2 billion beverage cases a year in 28 countries, spanning a distribution empire that includes Switzerland, Nigeria, and Macedonia. The bottler has in recent years been such a voracious acquirer of everything from Serbian juice makers to Bulgarian mineral water upstarts—this map of Hellenic's post-millennial conquests might make Alexander the Great blush—that it now derives only 6 percent of its sales from Greece. Still, dominating the sick continent of Europe is but a coldly comforting boast. Put it all together and CCH's New York-listed shares are down one-third in a year and off 63 percent from the all-time high reached in April 2008.
Now for some intrigue: Coca-Cola, with its $176 billion market cap, already owns nearly a quarter of its Greek offspring. According to Iakovos Kourtesis, a food-and-beverage analyst in Athens with National Securities, stock in Coca-Cola Hellenic recently changed hands at a more than 20 percent price-earnings discount vs. shares of its peers, a group that includes Mexico's Coca-Cola FEMSA (KOFL:MM) and Australia's Coca-Cola Amatil (CCL:AU). Hellenic is managing its operations in a way it says will allow it to build free cash flow, notwithstanding turbulence during the coming two years. There could yet be bank runs and rioting in the streets of Athens, for no one is counting out the possibility of a Grexit. Or Western Europe might figure out a way to save Greece and the rest of the 17-nation currency bloc—and investors who bailed on Coca Cola Hellenic could return.
Last month, Nicolas Ceron of Société Générale said that U.S.-based mega-bottler Coca-Cola Enterprises, which serves Western Europe and Scandinavia, could merge with Coca-Cola Hellenic if shareholders want to take money out of Greece ahead of possible capital controls. Plus there's this tantalizing wildcard—the prospect that the mother ship in Atlanta might swoop in to rescue its continental brand goodwill and its substantial equity investment.
"The business arrangements between Coca-Cola Hellenic and the Coca-Cola Company do not include a guarantee of the former's financial obligations," noted Moody's in its mid-June credit downgrade of Coca-Cola Hellenic. "However, Moody's believes that the close and longstanding relationship between the two entities is such that, if need be, the Coca-Cola Company will provide necessary support to maintain Coca-Cola Hellenic's adequate liquidity profile." (A spokeswoman at the Oracle of Delphi did not return calls.)
So what's Greek for arbitrage?
Before it's here, it's on the Bloomberg Terminal.
LEARN MORE