business
Wanted: Apps to Manage Your Money
By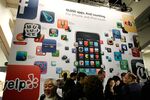 What's on your wish list for an smartphone app to help you manage your personal finances? That's the question the Treasury Department is asking as part of MyMoneyAppUp Challenge, a competition for developers and lay people. The challenge, launched this week, has two parts. The big prize, up to $10,000, is for developers to propose detailed designs for an app to give phones more financial firepower, which they explain in 3 to 5 pages and images or a video. For those of us without coding skills, the second prize offers as much as $1,000 for a great idea, which must be a Tweetable 140 characters or less.
The Treasury says the competition was inspired by visits to the developing world, where mobile payments have revolutionized financial services in Kenya and other places. In India, U.S. Treasury Secretary Tim Geithner saw people using their phones to make remittances, and Deputy Secretary of the Treasury Neal Wolin saw mobile banking in action in the Philippines.
Submissions for the big apps won't be made public before judging starts Aug. 12, but in the first two days, people have already submitted 25 concepts to the ideas competition. Some want to encourage savings and curb impulse spending. "I want an app that is a game that rewards me for saving activity," wrote Dave W, and Scott K. said he wants "an app that offers location based alerts to curb my budget breaking behaviors (e.g. enter Starbucks, get message)." Others want help wrapping their head around financial products. For example, David W. wants an app "to model my credit score, estimating what the effect of different activities might be on my ability to get credit."
If some of these ideas sound familiar, that's because apps already exist for some of the proposals. Mint.com, for example, handles all sorts of budgeting, with alerts about spending, savings goals, and charts galore. So once the Treasury's jury picks winners, they'll have the same challenge as every other developer out there—getting people to download and use them.
Before it's here, it's on the Bloomberg Terminal.
LEARN MORE