The Winners and Losers of Summer Fridays
By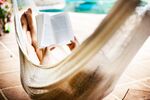 If it's past noon, you shouldn't be reading this at your desk. It's officially summer, and today is Friday. Ergo, you should be joining the lucky 12 percent of workers who enjoy Summer Fridays, a time-honored tradition whereby the workday is shortened or, even better, the office closes to start the weekend early.
It might be even good for business. A recent survey commissioned by Ultimat Vodka, a brand owned by Patrón Spirits in Las Vegas, shows 76 percent of employees believe Summer Friday policies are an effective tool for increasing productivity. Although, really, who wouldn't say that if it meant getting a day off every week in the summer (presumably in order to tip back a few Ultimats)?
"The reason we did this study about Summer Fridays is because we discovered, not too long ago, that there seems to be such a lack of work-like balance these days," says Greg Cohen, director of corporate communications at Patrón Spirits. "We suggest going to have a cocktail every now and again."
Many employers would disagree. A survey by Captivate Network found that summer hours are bad for companies, hurting productivity and increasing stress if workers make up for lost hours Monday through Thursday. This might explain the 41 percent of Ultimat's survey takers who say they often forfeit their Summer Friday benefit because their workload is too heavy.
So who's benefiting? Ultimat's survey—conducted online by Harris Interactive in May among 1,201 employed adults age 21 and older—shows a slightly higher rate of respondents who have a full-time job, are married, have children, have a college degree, or earn $75,000 or more work for a company with a Summer Friday benefit. It is also more prevalent in the northeast and west regions of the U.S.
On the other side: While younger workers, ages 21 to 34, are more likely to work for a business with a Summer Friday policy, 69 percent say they often forfeit them because their workload is too heavy. More than two-thirds of workers earning less than $35,000, as well as 82 percent of those in a household of five or more people, also say they often give them up.
"Happy employees are productive employees," says Cohen. "Letting them off Friday afternoon in the summer can help them achieve that work-life balance."
Ultimat claims Summer Fridays were started by New York ad agencies in the 1960s. Patrón offers them, though Cohen agrees that there are companies and industries where such a policy would be impractical. For the 88 percent of workers still in the office, there are always flights on Saturday.
Before it's here, it's on the Bloomberg Terminal.
LEARN MORE