The Seth MacFarlane School of Productivity
John Lopez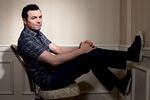 As the creator of Family Guy, American Dad, and The Cleveland Show, Seth MacFarlane oversees a billion-dollar animated-TV empire. As an avid singer and musician, he cut a Grammy-nominated album, Music Is Better Than Words, in 2011. This weekend, his feature-film directing debut, Ted—an irreverent comedy in which he plays a talking teddy bear opposite Mark Wahlberg—hits theaters.
Move at Your Own Pace
The New Yorker writes that MacFarlane is notorious for being late. He says he specifically slows down to reduce stress: "It's a regular occurrence for me to step outside my daily activities and contemplate things like the flow of time." It's even saved his life: MacFarlane missed United Flight 11 after a night of drinking, only to see it crash into the North Tower of the World Trade Center on Sept. 11, 2001.
Go Rogue
MacFarlane told the Hollywood Reporter that his ambition in college had been to animate for Disney, "until I found out that it was essentially [concentration camp] Theresienstadt." However, seeing the rule-breaking success of The Simpsons, he changed course, realizing risqué animation fit his no-holds-barred humor better.
Stave Off Boredom
MacFarlane needs to stay stimulated creatively, telling Daily Variety, "The trick with Family Guy, because it's been going on for so long, is not to get bored." For the 150th episode, he departed from the show's formula of manic, non sequitur flashbacks and locked evil baby Stewie and dog Bryan in a bank vault for most of the episode. It was essentially a two-character, one-act play.
Don't Delegate What You Can Do Yourself
Writing, animating, performing, and even agonizing over the sound effects, MacFarlane has his hands deep in every aspect of producing Family Guy, ever since Fox paid him $50,000 to write and animate the pilot all by himself. As his longtime producing partner Kara Vallow told the Hollywood Reporter, "He touches everything."
Seek Out the Best in the Business
In an NPR interview MacFarlane revealed that when he got the chance to make his first album, he sought out lessons from Lee and Sally Sweetland, who had been Frank Sinatra's voice coaches. When it came to directing his first feature, Ted, MacFarlane employed the cutting-edge, motion-capture technology of Avatar to bring the movie's boorish, talking teddy bear to life.
Before it's here, it's on the Bloomberg Terminal.
LEARN MORE