business
The Chip Behind Microsoft's and Google's Tablet Attacks
By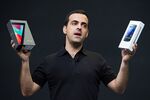 There's been a big under-the-radar technology winner in the last couple of weeks: chipmaker Nvidia.
A few years ago, the one-time graphics chip specialist started selling Tegra, a general purpose chip for non-PC devices. To date, the Tegra chip has appeared in some Android smartphones and tablets but it's largely been overshadowed by Qualcomm's Snapdragon chips and of course, the A4 and A5 chips designed by Apple and Samsung (005930:KS) that go into iPhones and iPads.
Of late, however, Tegra seems to be the darling of the device world. Microsoft, for example, will use the chip in its upcoming Surface tablets. Google, too, has picked the super-charged Tegra 3 chip for its Nexus 7 tablet. This means that the same Nvidia chip will sit in the $199 tablet from Google that's a low-end rival to Amazon's Kindle and in the higher-end, more expensive Surface device from Microsoft.
The Tegra 3 also made its way into the infotainment system of Tesla Motors's new Model S sedan.
All told, Nvidia expects about 30 Tegra-based devices to appear this year.
The company spent billions of dollars to bring Tegra to life, and its shareholders have been waiting for a big old return on that investment. Of late, it's looking as if Nvidia might have found its way into products that could be flashy enough to kick Tegra sales into higher gear. (Which is to say that Nvidia has plenty of work and genuflecting to the Fates ahead of it.) If nothing else, the world's top technology companies—outside of Apple—clearly see Nvidia as the horse to bet on in the near future.
Before it's here, it's on the Bloomberg Terminal.
LEARN MORE