China's Latest Bad News on Profits
State industrial companies had a sharp drop in earnings
by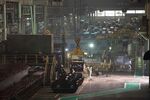 Chinese industrial companies' profits fell for a second month in May, down 5.4 percent from a year earlier to 390.9 billion yuan ($61 billion). In the first five months of this year, industrial enterprise earnings were down 2.4 percent, even as revenues grew 11.9 percent to 34.5 trillion yuan (that compares with sales growth of 29.4 percent a year earlier), reported China's National Bureau of Statistics on June 29.
"Higher financing costs are cutting down company profit margins, that is one of the components. If you look at revenue growth, it is slowing but not collapsing. The profit growth drop is a lot sharper," says Andrew Batson, Beijing-based research director at macroeconomic consultancy GK Dragonomics, who says real borrowing costs for companies are closer to 8 percent, above the benchmark one-year lending rate of 6.31 percent, after a recent interest rate reduction. "It is also because of tight labor markets and commodity prices are still high. The growth in sales is coming down and the companies are not getting relief" from high input costs.
The earnings erosion also shows Beijing's economy-boosting efforts—aimed at counteracting the global slowdown and cooling at home—have yet to benefit company bottom lines. Recent stimulus measures include three bank reserve ratio reductions since last November, and a June 7 interest rate cut, the first since 2008. A slew of new investment approvals in steel, railways, and water treatment came starting in May, following a particularly bad set of April economic data, and banks have been encouraged to lend more. Still, most economists have revised downward their growth projections for the second quarter, with Bank of America expecting 7.5 percent and Credit Agricole as low as 7 percent.
The statistics bureau's survey, which covers companies in 41 industries with annual sales over 20 million yuan (raised from the previous 5 million yuan minimum, as of last year), gives a picture of just who is suffering most. Worst-hit is ferrous metal smelting, including the steel industry, which saw its profits fall 56.9 percent in May. That sector is suffering from overcapacity following a big build-out in production in recent years, even as China's housing industry has slowed since last fall, restricting demand.
Also hard hit: profits in the chemicals industry, down 23 percent, and the telecommunications sector, which fell 16.5 percent. The oil and gas industry actually grew by 4 percent, even as Beijing's efforts to control end-user prices squeezed margins. Still, that was a dramatic drop from the 44.8 percent profit growth registered in December 2011. Car manufacturing had a surprisingly strong showing, up 10.4 percent in May, above the 8.7 percent growth the previous month. For all of last year, industrial profits in China grew by more than a quarter, up 27.9 percent.
While state-owned companies, many of which are in heavy industry and commodities, areas that are facing particular hardship during the global downturn, recorded a dismal 11 percent drop in profits in the first five months of this year, private enterprises' earnings grew by a surprisingly strong 18 percent. "The industries with depressed profit margins are dominated by SOEs," says GK Dragonomics' Batson. "In general, the performance indicators for private sector companies have consistently been stronger than SOEs, despite the fact that there is an obvious [policy] bias toward the state sector. [Private enterprises] probably could perform even better without that bias, but they are doing quite well."
After 30 years of rapid growth, China must now prepare for an era of "austerity," said Shao Ning, an official at China's state enterprise commission, in late June. China's government-owned enterprises must "make timely preparations to weather the upcoming storms and winters which will last for three to five years," said the deputy director of China's State-Owned Assets Supervision and Administration Commission, in a statement published online and reported by the Beijing-based financial news group Caijing. "Against the current harsh economic situations both home and abroad, the SOEs must attach much importance to reducing costs … and boosting efficiency," he said.
Before it's here, it's on the Bloomberg Terminal.
LEARN MORE