business
B-School Highlights: June 29
Francesca Di Meglio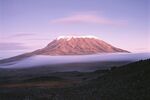 Some of the events and announcements from top business schools in the U.S. and around the world that made news in the past two weeks:
A survey of more than 300 students from top MBA programs found that most were faring well in the job market, but that didn't stop a small minority, 10 percent, from reporting that they were less optimistic about their job prospects than in 2011. According to Training the Street, a corporate training provider for Wall Street firms and top business schools, 94 percent of respondents had been invited to at least one first-round job interview, compared to 91 percent in 2011. And 50 percent, vs. 41 percent in 2011, received multiple offers. Despite the pessimists in their midst, 47 percent of respondents said they expected their starting salaries to be between $100,000 and $125,000.
University of Michigan's Ross School of Business will offer a unique executive education course that involves climbing the 19,000-foot Mount Kilimanjaro in Tanzania. Set to launch in late December, the course will be run by professor Scott DeRue, who will relate leadership lessons from the climb to business.
Dennis Hanno will take over as dean of Babson College's Olin Graduate School of Business and the role of the college's vice provost starting on July 1. Formerly the college's undergraduate dean, Hanno is replacing Raghu Tadepalli, who will become dean of Elon University's Love School of Business.
Melbourne Business School is introducing a 12-month, full-time MBA program that will include hands-on learning and, for students who are interested, an international exchange, according to a recent announcement.
Saint Leo University will launch a one-year international and experiential MBA program in downtown Tampa in September. In addition to the required 42 academic credit hours, students will participate in weekly trips to local companies, attend sessions with guest speakers, and take on internships for academic credit. They will also go on a weeklong study trip to Rio de Janeiro and its surrounding area.
Join the discussion on the Bloomberg Businessweek Business School Forum, visit us on Facebook, and follow @BWbschools on Twitter.
Before it's here, it's on the Bloomberg Terminal.
LEARN MORE