A Lesson in How to Solve America's Problems
Harold L. Sirkin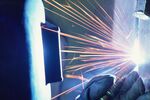 From the highly charged political rhetoric we hear every day, it's easy to conclude that America is at war with itself: business vs. labor, native-born vs. immigrant, and the 99 percent against the 1 percent.
While we certainly have disagreements about the direction of the country, most Americans are working hard to solve our problems, hand in hand with others, irrespective of their political views, employment status, or situation in life.
I saw this a few weeks ago when I had the good fortune to participate in a meeting of CGI America, the domestic arm of the Clinton Global Initiative, the former president's effort to boost economic activity around the globe.
CGI America was not intended to rally Democrats in preparation for the election. It is a nonpartisan effort that brought together academics, business leaders, government, union and trade association officials, journalists, and experts from nonprofits who are determined to solve America's problems and are willing to collaborate with people they might not ordinarily work with.
The agenda included sessions on advanced manufacturing, clean fuel and transportation, entrepreneurship, housing recovery, and other issues. But it wasn't just a gab-a-thon, like many such gatherings. The idea was to identify current and emerging problems, come up with concrete proposals for solving them, and have somebody in each group take personal responsibility for moving the proposed solution forward.
I served as adviser to the advanced manufacturing group, which included 75 people representing all aspects of manufacturing. Our group approved and committed to drive forward eight initiatives, each of which, when implemented, will make U.S. manufacturing more competitive.
In the area of education, for example, our group agreed to test at five community colleges the effectiveness of new technology that could reduce the time it takes to train qualified welders by as much as 25 percent. To most, this is not a sexy issue. But the average age of U.S. welders is now 56, and to some manufacturers, a shortage of welders could be the difference between success and failure.
Our group also committed to developing methods to improve the certification program for welders, so they can move seamlessly from factory work to pipeline work to construction work as needs change. Again, not sexy, but important work if we're going to have a strong manufacturing base in this country. OK?
The best lesson from the CGI America exercise was that when you get business, government, and other experts together as volunteers, rather than as self-interested advocates, you create a different dynamic. Instead of thinking "What's in it for me?" you're thinking "Yes, we can."
Before it's here, it's on the Bloomberg Terminal.
LEARN MORE