business
A Call to Action: U.S. B-Schools to Identify Board-Ready Women
Alison Damast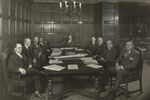 Less than a year after a European initiative to increase the number of women on corporate boards, U.S. business schools will launch a similar effort to identify board-ready women from their alumni and faculty ranks.
The Forté Foundation, a group of 39 business schools working to increase the number of women MBAs, is spearheading the effort. Members include Columbia Business School, MIT's Sloan School of Management and the University of Chicago's Booth School of Business.
Forté asked its 33 U.S. member business schools to participate in the effort at the organization's annual MBA Women's Conference in Los Angeles yesterday. Each school will be asked to identify at least five women with the potential to serve as corporate board members. In addition, the Forté Foundation said it will consider self-nominations from its membership database of 60,000 women, and will partner with other groups to expand the list, including the Women on Boards 2020 campaign.
The ultimate goal is to produce by the end of the year an initial list of about 165 or more vetted and board-ready women that companies can use when trying to identify potential board candidates, said Elissa Ellis-Sangster, Forté's executive director. Forté will also help women interested in serving on a board 10 years down the road, providing them with assessment tools and educational programming.
"I think it is important that we shed light on this issue and dispel some of the arguments out there that there aren't enough women who are qualified or that companies don't know where the women are," Ellis-Sangster said, in an interview. "We're just now seeing the voices coming together on this issue in the last year."
The number of women in the U.S. who serve on corporate boards remains disproportionately low. In 2011, U.S. women held just 16.1 percent of board seats, according to a study of Fortune 500 companies released last year by Catalyst, a group working to expand opportunities for women in business. In both 2010 and 2011, about one-tenth of the companies said they had no women at all serving as board members, the same study found.
The situation in Europe is similarly grim, with women representing only 14 percent of board members in Europe's biggest public companies, according to the European Business Schools Women on Board Initiative. In the fall, the European Business Schools and Senior Executive Women groups launched a "call to action" to raise awareness of the barriers preventing senior women executives from taking on board positions. Viviane Reding, vice president of the European Commission and the commissioner responsible for justice, fundamental rights, and citizenship, has also gotten involved in the initiative. In March 2011, she challenged all public companies in Europe to commit to increasing women's participation on corporate boards to 30 percent by 2015 and 40 percent by 2020. A year later, only 24 companies had signed the pledge.
This year, the European Business Schools Women on Board Initiative published a "Board Ready Women" list, with 7,000 European women the organization believes are qualified to serve as board members, including B-school alumni and faculty. Several of Forté's member schools, including London Business School, INSEAD, and SDA Bocconi School of Management, contributed to that list, Ellis-Sangster said, inspiring Forté to launch its own "call to action" in the U.S., she said.
Ellis-Sangster said she plans to reach out to the European Union's Reding after Forté has compiled the list, and hopes to work with her to create a global list of board-ready women. Forté's efforts in this area, along with the work being done in Europe, will hopefully help spur change in boardrooms across America and the world, she said.
"I'm not sure anything will change until we have a collective voice of women who ask companies to take steps to improve diversity on boards, and have that as their rallying cry," she said.
Before it's here, it's on the Bloomberg Terminal.
LEARN MORE