Supreme Court Supports Obamacare, Bolsters Obama
Paul M. Barrett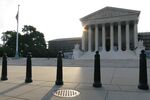 In a ruling sure to galvanize the fall election campaign, a bitterly divided Supreme Court on Thursday upheld the core (PDF) of President Barack Obama's health-care reform law.
In a lead opinion written by Chief Justice John Roberts, the justices upheld the 2010 Affordable Care Act, which requires people to obtain health insurance or face financial penalties. That provision aims at shoring up the financial viability of the insurance system, with the goal of extending coverage to at least 30 million uninsured Americans.
Coming just four months before the November presidential election, Thursday's ruling will become a focal point of debate between Obama and his Republican challenger, former Massachusetts Governor Mitt Romney. Before the Supreme Court acted, Romney had said that a decision to invalidate the core of Obama's signal legislative achievement would render the president's term in office "a waste."
The White House, for its part, has said that it modeled the overhaul on a Massachusetts plan that Romney himself signed into law as that state's governor. Striking down a significant element of the Obama initiative, the administration had warned, would undermine other more broadly popular provisions of the 2010 legislation, including a ban on insurance companies withholding coverage for people with preexisting medical conditions.
The ACA constitutes the most sweeping change of the nation's health-care system since Medicare and Medicaid were enacted in 1965. The product of a yearlong legislative battle, the ACA helped fuel the Tea Party movement and contributed to Democrats' loss of the House of Representatives in the 2010 mid-term elections.
One of the paradoxes of the controversy is that the individual insurance mandate is actually a conservative Republican idea. The Republican-friendly Heritage Foundation think tank proposed the concept (PDF) more than two decades ago. Before Obama and many Democratic leaders embraced the mandate, the measure had the support of many powerful Republicans. As late as June 2009, Senator Charles Grassley (Iowa), the ranking Republican on the Senate Finance Committee, told Fox News: "There is a bipartisan consensus to have an individual mandate."
Once Obama made it a major part of his agenda, however, Republicans changed their minds. The Supreme Court's ruling is a vindication of the president's decision to push health reform as his main political goal.
Before it's here, it's on the Bloomberg Terminal.
LEARN MORE