Penfolds Turns Cabernet Sauvignon Into $168,000 Art
By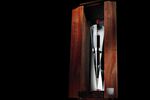 On June 28, Penfolds Wines launched a limited edition of its 2004 Block 42 Cabernet Sauvignon for $168,000. That's several times more than the original price of $225 when it was released five years ago, and Penfolds claims it's now the most expensive wine in the world sold directly from a winery.


Still, the Australian winemaker intends for this release to be more of an art piece. Its clearest distinction is the new bottle, if you can call it that. Penfolds describes it as an "ampoule," or a sealed glass capsule, with a wooden box. Buyers are also paying for the pomp and circumstance involved in opening it: When you decide to drink the wine, Penfolds will send a winemaker with a specially designed, tungsten-tipped, sterling silver tool to cut it open. (You can always attempt to saber the bottle, but it's not recommended.)
The glass sculpture was designed and handblown by Nick Mount, a glass artist in Adelaide, South Australia. Penfolds's chief winemaker Peter Gago says in a release: "The ampoule project is typical of the pioneering philosophy behind Penfolds's winemaking evolution. The collaboration with South Australia's finest artists has been a fitting tribute for one of South Australia's finest wines."
This wine, first released in 2007, received excellent reviews. Wine Spectator editor Harvey Steiman wrote: "The beauty of 2004 is apparent in the Block 42, which I expect to be among the greatest wines of the vintage, and in my book, the best straight Cabernet Australia has ever made."
It attracted so much attention that Block 42 set a record as the most expensive wine ever sold in New Zealand, when a 6-liter bottle auctioned for NZ$18,000 in 2007.
Penfolds created 12 ampoules—one for its library, one to be auctioned for charity, and 10 for sale (two in North America, two in Europe, three in Asia, and three in Australia and New Zealand), says spokeswoman Lily Lane.
Before it's here, it's on the Bloomberg Terminal.
LEARN MORE