business
On Health Care, Small Business Just Wants to Move On
By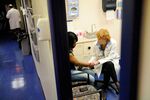 Partisans on both sides of the health reform law have used small business to justify their positions. The National Federation of Independent Business was the lead plaintiff in the legal challenge that the Supreme Court ruled on today, upholding most of the Affordable Care Act, including the individual mandate. The White House defended the law as a needed fix to cover small business owners and their workers, who are insured at much lower rates than employees of big companies.
Now that Obamacare is alive and well, those businesses are largely ready to move forward. As David Rhoa, president of a family-owned direct mail business in Kalamazoo, Mich., puts it: "For me this is not a partisan issue. This is a business issue. I've still got a business to run. Tell me what's next."
Three months ago I wrote about Rhoa's struggle to figure out what his company, Lake Michigan Mailers, should do to comply with the law. It requires small businesses with more than 50 employees to provide insurance or pay a penalty, beginning in 2014. Yet a number of confusing conditions apply, and details still haven't been worked out. Rhoa wasn't sure if he should buy a more expensive plan than what the company now offers to its staff of 55. Or drop health benefits entirely and pay a fine, sending employees to buy their own coverage in state insurance exchanges. Thursday's ruling did nothing to clear up the confusion, Rhoa says. "What do I have to have? How do I calculate certain things? Those still remain unresolved."
Some small business owners will likely turn to the law's challenger for guidance. NFIB President Dan Danner said in a call with reporters that his group will "do everything we can to help our members" comply and will push to make the law work in their favor. The group will lobby regulators as they hash out the details and work at the state level to make the insurance exchanges friendlier to small businesses.
At the same time, the NFIB—which made its name in the 1990s defeating President Clinton's attempt at health-care reform—won't give up the bigger battle just because the High Court ruled in the Obama administration's favor. Danner said it would try to elect a Congress that might be able to repeal the law, or parts of it, such as the tax on health insurers, which he says would be passed along to small businesses. "We will redouble our efforts," Danner said. "There are parts of it we will never quit fighting."
Before it's here, it's on the Bloomberg Terminal.
LEARN MORE