A Sick Rally, So to Speak, for Hospital Stocks
By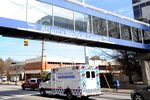 Conventional wisdom says a bigger government hand in health care means more scrutiny of outlays to highly profitable pharmaceuticals, insurers, and medical device makers. Indeed, with the Supreme Court voting 5-4 to uphold the Affordable Care Act, these sectors are all down today, amid a broad market pullback.
But it is telling that shares of hospital companies are simultaneously up big—making them the biggest immediate beneficiary of the ruling, next to, perhaps, the Foggy Bottom liquor store that supplies celebratory kegs to the White House. The upheld health-care law is expected to insure millions of patients who otherwise would have entered hospitals without having any coverage. Since most hospitals cannot simply turn away the uninsured, they must invest a good deal of labor and expense into recouping costs, especially those related to emergency room admissions.
The landmark law endeavors to expand coverage to at least 30 million people, chiefly by expanding Medicaid and establishing a competitive online marketplace for consumers to more easily buy coverage. All of which means potentially far less hassle getting paid if you're a large hospital chain like HCA Holdings and Tenet Healthcare: Their shares shot up 10 percent and 7 percent, respectively. Meanwhile, executives from Medicaid insurers were likely sending Chief Justice John Roberts ginormous Hug-Grams. Molina Healthcare, for example, jumped 7 percent.
"No one in the hospital land really expected the entire law to be upheld," says Sheryl Skolnick, a health-care analyst at CRT Capital Markets in Stamford, Conn. "They expected something in the muddy middle. And with surprise, you get big swings."
Time for one more "Harry and Louise" reshoot?
Before it's here, it's on the Bloomberg Terminal.
LEARN MORE