Why the NYT-Flipboard Deal Is a Smart Move
Mathew Ingram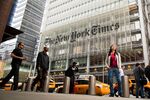 The New York Times hasn't exactly been forthcoming with its digital content in the past: The only way you could get it was through the newspaper's apps or via excerpts on a site like the Huffington Post or Google News. That is why the deal it announced early Monday with the magazine-style news aggregation engine Flipboard is worth paying attention to. For the first time, subscribers will be able to access Times content via something other than the NYT's own site or apps. It may not be a huge revenue generator (at least not in the short term), but it is still an encouraging sign of a traditional media player trying to adapt to a new model.
Starting this Thursday, the Times will provide all its content—articles, videos, photo slideshows, and blog posts—to subscribers who use Flipboard, while nonsubscribers will get a free sample of certain articles. Denise Warren, who runs the NYT's website, said the deal made sense for the newspaper because it is promoting digital subscriptions, and an analysis of its readership showed that 20 percent of the paper's subscribers use third-party apps like Flipboard to consume content. "We realized that we have an opportunity to enable this kind of access for paying subscribers, and we thought it was something we ought to try and see how users react to it," Warren said.
At last the NYT seems to recognize that people are discovering content in new ways now, thanks to the "democratization of distribution" provided by the Web and social media. Growing numbers of readers and news consumers no longer simply go to the home page of a newspaper and read it or subscribe through a single provider's app. They get their news through aggregators such as Google News and Flipboard or through Twitter links, Facebook, and a variety of other methods. A survey by the Pew Center found that almost as many people use aggregators as consume news directly from a news source or get to it via a search engine.
Until now the New York Times has taken the same approach as most other traditional media players, which is to try to recreate the scarcity model that worked in print by publishing only through for-pay apps on smartphones and tablets and by putting up subscription-only paywalls. While the Flipboard deal doesn't provide a way around that paywall, it at least gets Times content in front of more people (potentially), and that could give them an incentive to subscribe, as Gartner analyst Michael Gartenberg noted on Twitter.
It's not clear from the comments Flipboard Chief Executive Mike McCue has made whether the Times will also be experimenting with a revenue-sharing deal involving Flipboard ads. Some publishers, including Wired and the New Yorker, told Advertising Age magazine they are shutting down their advertising partnerships with Flipboard, saying they are concerned about driving subscribers away from their own apps and websites to Flipboard, which in some sense is a competitor. Both will now provide only article excerpts (although any content posted on their websites can still be viewed in a Web browser within Flipboard).
This is a typical kind of "control the content" approach, one that is becoming less and less relevant as the digital-information explosion continues to level traditional print-based business models. While the New York Times seems to be trying to have its cake and eat it too—by keeping a paywall while still providing content through Flipboard—it is at least taking advantage of a new distribution system as a way of reaching its audience.
In that sense the Flipboard arrangement is a sign the newspaper might be undergoing a philosophical or cultural change when it comes to content, something it will hopefully continue as it searches for a new CEO who can take it into a digital future. In addition to Flipboard, the newspaper announced another interesting digital-native partnership recently: namely, a deal with viral Web-content aggregator BuzzFeed, to share knowledge related to the election and other topics. Learning from new providers is smart.
It's possible the Flipboard deal won't really produce much in the way of incremental revenue for the Times, but at least it will provide one thing: more data on what readers want and when and where they want it. At some point the newspaper could decide to open even more of its content to readers through Flipboard and other venues and take a gamble on ad revenue from that new source as a way of bridging the digital gap newspapers are suffering.
Predicting exactly which strategies will work is almost impossible, since the process of reinvention and adaptation is always somewhat chaotic, as media analyst and journalism professor Clay Shirky has noted. That just means more experimentation is required. It's good to see the Times taking some small steps in that direction.
Also from GigaOM:
Building a Better Paywall: Strategies for Monetizing News Content (subscription required)
Want Skype on Your Mobile Phone? Swedes Will Have to Pay
Asana Tries to End E-Mail Frustration With Inbox
How Intel Labs Is Using Data to Curb Energy Use