Barnstorming SBA Chief Makes Obama's Case for Small Business
By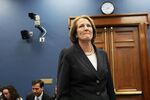 Since President Barack Obama took office, the White House has pushed a series of policies intended to help small businesses battered by the recession: expanded help getting bank loans, a pledge to cut red tape, and, most recently, looser rules for raising money and going public. Now, with the economy at the center of Obama's bid for a second term, his chief small business adviser is trying to convince business owners that the efforts are working.
"Small businesses want things streamlined, and one of the great successes we're having is less paperwork, faster turnaround times," Karen Mills, head of the Small Business Administration, said in a June 26 interview with Bloomberg Businessweek. She cited SBA loan applications that the agency now acts on in 10 days and payments to federal contractors that go out in 15 days. She called the $100 billion the government spends buying goods and services from small vendors "probably the largest and most important program for small businesses across the federal government."
Mills crisscrosses the country at the pace of a candidate on the campaign trail, touting the White House's efforts in meetings with entrepreneurs. Last week she was in Iowa. West Virginia and Ohio before that. From New York, she was flying to San Antonio. "I travel every week," Mills says.
The barnstorming may not be sufficient to counter perceptions that Obama hasn't helped small business. In an indication of how little Main Street thinks things have improved, 71 percent of business owners in a recent poll said they still believe the economy is in recession, even though the recovery technically began six months into Obama's term, in June 2009.
Todd McCracken, president of the National Small Business Association, gives the Obama administration a mixed grade. He praises the SBA for supporting lending during the downturn but says bank credit is still too tight. While the White House effort to streamline regulation is welcome, he says, red tape remains a burden, particularly the complexity of the tax code. And McCracken says the Obama administration's biggest policy initiative, the health reform law that the Supreme Court may strike down all or part of this week, won't do what small business owners need—cut medical insurance costs. "We don't believe costs will come down in any meaningful way, and cost is the biggest issue for small business," he wrote in an e-mail.
When asked about the Affordable Care Act, Mills contended that small businesses are counting on health reform to give them a level playing field to buy insurance through state exchanges. "When you talk to small business about the Affordable Care Act … what they tell me is they cannot wait for these exchanges," Mills said. "Small businesses pay 18 percent more than big businesses for health care, the same health care, just because they're small and they have too small a pool of risk." Of course, many businesses' chief complaint about the health reform law is that it requires them to buy insurance for employees or face a penalty.
Overall, concern about regulation and red tape has been rising since Obama took office, according to the National Federation of Independent Business monthly survey. Mills says that perception, too, is misplaced. She cites the JOBS Act, passed this year to make it easier to raise capital and take companies public. Mills says it addresses longstanding concerns about regulations that hinder initial public stock offerings.
"Our job now," she says, "is to make sure small businesses know about it." On to Texas—and Nov. 6.
Before it's here, it's on the Bloomberg Terminal.
LEARN MORE