Waze to Drive Its Social GPS Software Into Cars This Year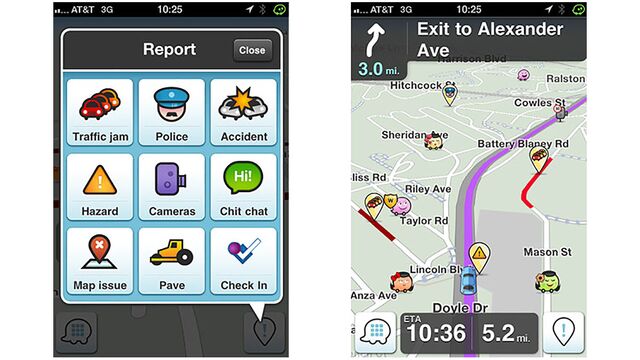 Images courtesy Waze
Waze, which makes one of the most popular GPS applications for smartphones, is planning to break into a platform it hopes will provide greater fuel for its business: the car.
The first car models to integrate Waze's social mapping software, which provides turn-by-turn navigation as well as traffic and incident reports submitted by other drivers, will come later this year, said Chief Executive Officer Noam Bardin. He said his company is working with most major automakers, but would not disclose which ones.
"The same innovation that's happening in the smartphone is going to tip into the car," Bardin said in an interview at his company's Palo Alto, California-based headquarters.
Waze's free app for iPhones and Android devices has 19 million users, who can move up the ranks and unlock new avatar characters by earning points for feeding data into the system. The company, which recently added a feature for tracking gas prices, plans to make money by selling location-based ads.
The company's foray into automobiles comes as Apple drives toward a similar business. The maker of iPhones announced this month that Audi, BMW, Chrysler, General Motors, Honda, Jaguar Land Rover, Mercedes-Benz and Toyota have all committed to install buttons on their steering wheels that activate the smartphone's Siri voice controls. Apple is also adding free turn-by-turn navigation to the iPhone this fall and enabling social networking features through Yelp.
Bardin said he's not worried about Apple, since usage of Waze wasn't affected when Google added a similar navigation feature to Android. Waze appears to power some part of Apple's new Maps app, according to published images of the software. Bardin declined to comment.
Both Apple and Waze could coexist in cars, depending on how they are implemented. Automakers are expected to install dashboard units that look like Pioneer's AppRadio, which can display Waze or other apps from a smartphone onto the car's screen, Bardin said.
Automakers plan to make car software more compatible with smartphones, rather than develop their own operating systems to compete with the iPhone, he said.
"The car manufacturers thought they were going to be Apple," Bardin said.
Instead, they're heading down what may be a smoother road.
Before it's here, it's on the Bloomberg Terminal.
LEARN MORE