Mitt Romney's Top Five Tweets and What They Reveal
By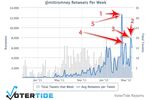 So as I mentioned yesterday, I've been playing around with a new tool from a company called VoterTide that lets you do data analytics for, among other things, politicians' tweets and how they move through the Twittersphere. Obama's five most popular tweets—as measured by the number of retweets (RTs)—show that gay rights are a huge issue for him on Twitter. (Also, that he remembered Valentines Day.) What about Mitt Romney? Well, above is a chart of Romney's tweets and retweets. First thing you notice comparing the two candidates is that @MittRomney gets only a fraction of the attention on Twitter that @BarackObama does (possibly because Obama has 17 million followers and Romney has only 583,000). Beyond that, Romney's jobs-focused message resonates with his followers. And it's interesting that his habit of thanking and congratulating people translates reasonably well to social media. Also, Romney shows good Twitter etiquette and links to Obama's @ handle. Not sure any of this is a "game changer," but there you have it. Here are Romney's top five tweets:
1) Under @BarackObama nearly 23 million Americans are struggling for work. RT if you agree he should be a one term president. April 11, 2012. 4,215 RT.
2) Thank you to those who stormed the beaches, took the cliffs and freed a continent. We should never forget #DDay June 6, 2012.  3,479 RT.
3) I congratulate @ScottKWalker on his victory in WI. Tonight's results will echo beyond the borders of Wisconsin mi.tt/LxWkwA June 5, 2012. 2,300 RT.
4) Welcome to Ohio @BarackObama. I have a simple question for you: Where are the jobs? RT if you agree mi.tt/IApn44 #Mitt2012 May 4 ,2012. 2,083 RT.
5) Tonight I can say thank you, America. You have given me a great honor & solemn responsibility. And, together, we will win in November. April 11, 2012. 2,026 RT.
Before it's here, it's on the Bloomberg Terminal.
LEARN MORE