French Bonds Suddenly Look Shaky
Investors harbor doubts over the Socialist regime
By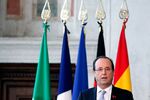 Are investors starting to lose patience with French President François Hollande? Yields on France's benchmark 10-year bond rose above 2.6 percent on June 26, up from a euro-era low of 2.07 percent at the beginning of the month.
Certainly, France is in far better shape than its neighbors Spain and Italy, where 10-year yields are over 6 percent. But, says Bill Blain, a Newedge Group strategist in London, "I'm seeing a very small number of international institutional players buying French debt. People are very nervous."
One concern is that Hollande, who took office on May 15, may not fulfill his campaign promise to pare the budget deficit to 4.5 percent this year, down from 5.2 percent in 2011. Accomplishing that in a stagnant economy won't be easy—a fact underscored on June 26, when the Labor Ministry reported that jobless claims have risen to a 12-year high, meaning the government will be spending more on unemployment benefits.
Another concern for investors is that the French banking system is more exposed than any other country's to Europe's most troubled economies. Collectively, major French banks hold more than $540 billion of private and public debt in Greece, Ireland, Italy, Portugal, and Spain.
Hollande won't unveil details of his budget plan until early July, but has said he'll raise some taxes and cut some spending without resorting to austerity measures that could stifle growth. "We don't want austerity; it's what touches the middle class, hurts spending," Finance Minister Pierre Moscovici said in a radio interview on June 26.
Business leaders are already complaining that some of Hollande's initiatives—such as a 2 percent increase in the country's minimum wage, announced on June 26—will damage the competitiveness of French companies.
For months, Hollande's promise to cut deficits appeared to reassure investors, even after France lost its AAA credit rating in January. Yields on French bonds fell steadily during the presidential campaign and continued to fall after his inauguration on May 15.
Some market-watchers warn that sentiment could quickly turn against Paris. Holders of long-term French debt are likely to suffer "if the deficit numbers and/or [gross domestic product] and unemployment in France are ugly in the next few months," says Nicola Marinelli, who oversees $163 million at Glendevon King Asset Management in London.
Others, though, say the recent uptick in French debt yields is no reason for alarm. "Yes, there is some uncertainty about policy," says Steven Major, global head of fixed income research at HSBC in London. "But the French treasury is paying less in interest now than they were a year ago."
— With assistance by Mark Deen, and Lucy Meakin
Before it's here, it's on the Bloomberg Terminal.
LEARN MORE