Flying Hello Kitty's Friendly (and Cutesy) Skies
By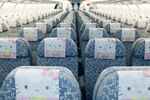 After a young Asian-American from San Francisco flew his seventh Hello Kitty flight, EVA Airways (2618:TT) recently awarded him a solid gold boarding pass bearing the design of Sanrio's (8136:JP) cartoon cat with his name engraved on it. While seven flights may seem paltry compared to the number accumulated by George Clooney's corporate road warrior in Up in the Air, it nonetheless marked a milestone: The man officially became the world's most-traveled Hello Kitty jet customer.
"Hello Kitty flights aren't just for kids," says K.W. Nieh, the Taiwan-based carrier's group executive officer for public relations. "We fly Hello Kitty jets to cities all over Japan, as well as to Korea, Shanghai, and Guam. Business and leisure travelers both go to all of these destinations."
Whatever their reasons for flying, patrons of Hello Kitty had best enjoy cuteness—there's no escaping it. At Taipei's Taoyuan International Airport, they receive Hello Kitty boarding passes and baggage tags. A Hello Kitty song plays as passengers board the plane, which is plastered on the exterior with a Hello Kitty decal made by 3M. All-female cabin crew members swap their usual EVA Airways-issued green uniforms for pink aprons and scarves. All seats (252 to 309, depending on whether it's an Airbus [EAD:FP] A330-200 or A330-300), are covered with Hello Kitty headrest covers. Even the meals, ice cream, snacks, cups, utensils, milk bottles, soap, hand lotion, and tissues are designed in the image of Hello Kitty.
SLIDESHOW: Fly in Hello Kitty Style
While Nieh would not disclose details about the company's licensing agreement with greeting card, gifts, and stationary company Sanrio—which makes Hello Kitty goods—he says EVA Airways has invested about $5 million in the jets, which have been in the works since spring 2011. This figure includes the contract with Sanrio, the design and licensing for the jets, various in-flight items and duty-free products, and fees to promote the new brightly-colored fleet.
Jason Chang, a professor of transportation planning and economics in Taiwan, has taken three Hello Kitty flights in the last four months. The first time came as a surprise. After he snapped photos for his wife, a devoted fan, attendants noticed Chang's amusement and offered a bag of Hello Kitty gifts. He also saved a hand towel as a souvenir—for his wife, of course. "Those flights are very happy," he says. As for the branding, "I enjoy the competition [between airlines]. It will enhance the service quality," he says.
EVA's five Hello Kitty jets became fully operational as of June 22, serving such cities as Tokyo, Fukuoka, and Chitose in Japan, as well as Seoul, Hong Kong, Shanghai, and Guam. Each plane will have a different theme: "Hello Kitty Magic Jet," "Apple Jet," "Global Jet," "Happy Music Jet," or "Speed Puff Jet."
This is the second time EVA Airways—which made TWD102.19 billion ($3.48 billion) in revenue in 2011, according to data compiled by Bloomberg—licensed the popular character from Sanrio. From 2005 to 2008, EVA operated two Hello Kitty jets. Tokyo-based Sanrio, a fountainhead of Japanese "kawaii" (or cute) culture, originally sought a partnership on duty-free items; EVA President K.W. Chang saw a greater opportunity.
Created by Sanrio in 1974, Hello Kitty quickly became popular among young girls. It was introduced in the U.S. in 1976. Sanrio characters, including Keroppi, a frog, and My Melody, a rabbit, are extremely popular in Japan, home of two Sanrio theme parks. (Hello Kitty is not just for kids either, if lingerie and vibrators are any indication.)
Sanrio reported ¥74.95 billion ($949.9 million) in revenue for the year ending March 31, 2012. Sales fell from 2000 to 2009 and have rebounded somewhat since.
The airway's adorable marketing strategy has attracted some avid travelers from carriers that fly the same routes, says Nieh. The load factor on Hello Kitty flights averages 80 percent to 90 percent, about 5 percent to 10 percent higher than EVA's average on those routes before the Hello Kitty jets were introduced. Duty-free, in-flight sales of 13 kinds of Hello Kitty products generate some revenue, too.
EVA's contract with Sanrio expires on Oct. 31, 2018. Eventually, the airline hopes to add Hello Kitty jets on long-haul routes around the world. Says Nieh, "We believe there is a market for our Hello Kitty Jet service outside of Asia." The character has made inroads in the U.S., where Sanrio sells products through such retailers as Target, Macy's, Hot Topic, Claire's, and Toys R Us.