Bangalore, Stymied by the Visa Shortage, Hires in the U.S.
India's IT companies can't get their hands on enough U.S. visas
By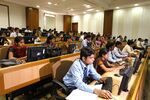 MindTree, an Indian outsourcing specialist from Bangalore, has 11,000 employees doing work for customers in banking, insurance, and other industries. Most are in India. But since the company sometimes wants those workers to be close to the clients, MindTree has 850 employees in the U.S., working in 36 different states. Some are U.S. citizens or green card holders, but about 60 percent have entered the country on one of two types of work visas. With the U.S. unemployment rate higher than 8 percent, and Indian outsourcing already an issue in the presidential election, those visas are getting harder to secure. "Rejection rates are way up," says Scott Staples, president of MindTree's U.S. operation. "It's so much harder to get visas approved."
Executives at other Indian outsourcers face similar problems. Big companies such as Tata Consultancy Services, Infosys, and Wipro have become global outsourcing powers. Most of their workers are in Bangalore, Mumbai, and other Indian cities, but, like smaller rival MindTree, the largest companies also need to have employees on the ground for "onshore" work. To get these workers into the U.S., companies rely on several types of visas. One is the H-1B, which the U.S. reserves for people with specific types of training. Another is the L-1B, for employees with specialized knowledge.
Getting those visas has become a lot trickier. Rejection rates, which were around 10 percent five years ago, are now as high as 50 percent, says Ajoyendra Mukherjee, executive vice president and head of global human resources for Tata, India's largest IT services company. Nasscom, the Indian IT services industry's trade organization, is lobbying for a relaxation of the rules that govern visa applications. The high rejection rates "add immensely to the uncertainty of our business," says Som Mittal, Nasscom's president. "We are never sure why somebody will be approved or not."
Indians are upset about other U.S. policies affecting the outsourcing industry, too. For instance, Prime Minister Manmohan Singh's government last month filed a complaint with the World Trade Organization about a 2010 U.S. law that doubled the fees Indian companies pay for work visas. Indians also say the U.S. has made the application process for H-1B visas more difficult by demanding that applicants provide new information such as testimonials from professors. Over the past three years, consulate officers have asked for "too much information which is very difficult to provide," says Mittal. "It's just onerous."
Companies are pushing the Obama administration to ease up—and they're enlisting corporate allies in the U.S. In March, 64 companies, including Boeing, Procter & Gamble, General Electric, and Microsoft, wrote to President Obama about "unprecedented delays" caused by what they called "an inconsistent and improperly narrowed definition" of what constitutes the type of specialized knowledge needed for an L-1B visa. The stricter interpretation of the rules dates back to early 2011, says Jay Ruby, a partner in Atlanta with Ogletree Deakins, the third-largest immigration law firm in the U.S. With the new definition of specialized knowledge, he says, the government is "essentially restricting eligibility to a handful of people."
Indian companies are considering such alternatives as employing more locals. Tata hired 1,600 people in the U.S. last year, up from 1,200 in 2010. With the unemployment rate high, the pressure on visas is "inevitable," says MindTree's Staples, who predicts a decline in the company's use of work visas. MindTree plans to hire 400 people at a new center in Gainesville, Fla., and Staples expects to open more centers in the U.S. "If visas become harder to get," he says, "we have the ability to accelerate that."
Before it's here, it's on the Bloomberg Terminal.
LEARN MORE