Obama's Top Five Tweets of All Time
By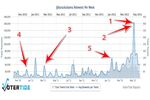 Social media has become increasingly important in politics, especially to the Obama campaign. But tracking and measuring its impact can be tricky, given the burgeoning number of platforms and the various ways that could plausibly be said to measure "impact." A number of new companies have sprung up to try to add some logic and order to this process and to provide tools to make it easier. I've been playing around with the tools offered by an Omaha company called VoterTide, which, among other things, lets you track how tweets by various politicians—say, @MittRomney or @BarackObama—move through Twitter. I thought it would be interesting to identify Obama's top tweets to see what, if anything, they might suggest.
With some help from VoterTide, I came up with the chart above, which measures Obama's retweets since November 2010—my thinking being that retweets are probably a decent proxy for engagement, excitement, etc. You'll note that the most popular tweets don't correspond perfectly to the spikes on the chart. That's because I could only get "average retweets (RT) per week" (hopefully, my analytic capabilities will improve as I learn more). But here are the actual top five Obama tweets (@BarackObama), with the relevant data:
1. "Same-sex couples should be able to get married."—President Obama, May 9, 2012. 62,036 RT.
2. President Obama announces his support for same-sex marriage: http://OFA.BO/CLBAi9, May 9, 2012, 17,913 RT.
3. Sending condolences to the people of Japan, particularly those who lost loved ones in the earthquake & tsunamis. U.S. stands ready to help. March 11, 2011. 16,938 RT.
4. By ending "Don't Ask, Don't Tell," no longer will patriotic Americans be asked to live a lie in order to serve the country they love. Dec. 18, 2010. 15,017 RT.
5. Hey, @MichelleObama: Happy Valentine's Day. -bo Feb. 14, 2012. 12,569 RT.
Obvious takeaway: Gay marriage/gay rights is a big winner, at least in terms of social media engagement. That's no doubt useful information to the Obama campaign, which is trying hard to figure out how to activate—or rather, reactivate—the young, liberal voters who turned out in droves for him last election, but whose enthusiasm has since waned. I'll gin up a Romney retweet chart and analysis tomorrow.
Before it's here, it's on the Bloomberg Terminal.
LEARN MORE