business
Is Canada Too Smug About Its Economic Future?
By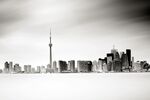 Over the past four years, Canada has been feted as the country that does practically everything right. Its banks are beloved by everyone from economist Paul Krugman to Moody's Investment Service, which rated them earlier this year as the safest in the world.
While U.S. politicians bickered for years over free-trade deals with South Korea, Colombia, and Panama, Canadians signed several pacts and launched free-trade talks with 50 other nations. Its economy has grown faster—and its debt has stayed smaller—than its Group of Seven peers. (The International Monetary Fund expects Canada's net debt-to-GDP ratio to be 33 percent by 2016, compared with 85.7 percent in the U.S.) Even the controversy over Canada's Keystone XL pipeline underscored the fact that Alberta has the resources to ship more than 700,000 barrels of oil a day to U.S. refineries. What a problem to have. No wonder China Investment Corp., Beijing's sovereign wealth fund, set up its first foreign office in Toronto last year instead of in New York.
Yet there's increased grumbling these days that not all is well north of the border—and not just because low interest rates and high housing prices have helped push household debt to the point where Canadians now owe an average of $1.52 for every dollar they earn. Economic growth has slowed, with annualized GDP growth up 1.5 percent in the first quarter, when the Bank of Canada had expected a 2.5 percent increase. Some of that is no doubt due to misery in other parts of the world, which has dampened demand and rattled investors. But it's not the only factor that's bothering Glen Hodgson, chief economist at the Conference Board of Canada, a prominent Ottawa-based think tank. Hodgson put out a commentary on June 25 entitled "Don't Be Too Smug, Canada" that points to other challenges he feels are not being adequately addressed.
While Hodgson praises his homeland for its sound fiscal and monetary policies and conservative banking regulation, he writes that there are "numerous cracks in the Canadian facade." In particular, he argues that chronically weak productivity growth has put Canadian incomes at $8,500 per capita below where they would be if the country matched U.S. rates. Its innovation strategy is mixed, tax reform is overdue, and too little has been done to deal with what he calls the "approaching demographic tsunami" of an aging population. What's more, he writes, "there continue to be important barriers to the movement of people, goods, services, and investment capital between provinces." That, in turn, could exacerbate the risk of a two-track economy where the resource-risk Western provinces outperform places such as Ontario, which has seen its manufacturing sector slump amid a strong currency and growing competition from emerging markets.
I spoke with Hodgson on Monday to get a sense of how dire the outlook might be. (Canadians, after all, have been known to beat themselves up.) With stints at the IMF, the Canadian Department of Finance, and Export Development Canada, he has a broad view of the landscape. He's also a man who calls central bankers the heroes of recent years and considers Prime Minister Stephen Harper to be pushing the country in the right direction.
So what's the problem? One of the biggest may be a lack of innovation. "We don't convert patents into commercial products or have enough firms that are willing to change every day," says Hodgson. "It runs counter to Canada's culture." The branch-plant economy that faded with the North American Free Trade Agreement morphed into one that relied on a cheap currency to compete. (With the loonie essentially on par with the U.S. dollar these days, it's easy to forget it was worth less than 62¢ just a decade ago.) Now, Hodgson says, Canada needs to encourage more venture capital, public-private partnerships, targeted research investments, and corporate risk-taking—albeit not of the credit default swap kind. To be fair, the federal government did recently create the Canadian Innovation Commercialization Program to move in that direction, but worthwhile government initiatives can go only so far.
An open economy drives bigger innovation. In this respect, Canada's record is mixed. While it has embraced free trade and immigration to a greater extent than the U.S. has in recent years—in part because its population is getting older faster—it's harder to treat the country that's just one-tenth the size of the U.S. as a single market. Hodgson says the provinces are balkanized in areas from labor qualifications to product standards. Blame history: "Where something isn't clear, the provinces get to set the rules." Not only is that a headache for businesses, but it could worsen the uneven economic growth of the commodities boom—a "Dutch Disease" phenomenon that was raised as an issue by a June 13 report from the Organisation for Economic Co-operation and Development.
To be sure, Hodgson admits that things could be worse. Canadians may not get that worked up about the need to simplify taxes, for example, because there's less visible evidence to suggest the system is unfair. While Canada's income gap has grown, personal wealth is distributed more equally, and household incomes were not hit as hard by the financial crisis as in the U.S. Moreover, even pundits who have lowered their economic forecasts for the year are still predicting at least 2 percent growth.
Hodgson isn't alone in his concerns. Canadian Finance Minister Jim Flaherty expressed renewed confidence last week that the economy is on track, but he unveiled rules to prevent a housing crash and admitted he was worried about the impact of events in the U.S. and Europe. That's the kind of smugness Canadians have come to expect.
Before it's here, it's on the Bloomberg Terminal.
LEARN MORE