Improving America's Competitiveness
Harold L. Sirkin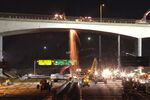 You can't get there from here.
"There" is the economic future we want for America: a vibrant, creative, full-employment economy firing on all cylinders and growing at twice the current rate. "Here" is the U.S. circa 2012, with our aging, deteriorating infrastructure: highways, bridges, railways, airports, seaports, electrical grid, and communications networks.
Historically, one of America's greatest advantages has been its superior infrastructure: more than 500 primary airports; some 3.9 million miles of public roads, including more than 47,000 miles of interstate highway; 120,000 miles of major rail; 2 million miles of oil and natural gas pipeline; more than 300 ports.
Most of the assets we categorize as infrastructure move people, goods, and information from here to there: roads, bridges, ports, waterways, rail, transit systems, airports, air traffic control, and the national information (broadband) infrastructure. Other assets include the electric power grid, dams, drinking water systems, and wastewater and hazardous waste facilities.
But we've been shortchanging ourselves for years, failing to maintain them, let alone significantly adding to capacity like we should have been. And our economy is already paying the price.
The Economic Development Research Group, for example, estimates that deficiencies in our roads, bridges, and transit systems cost the economy about $130 billion in 2010. The American Society of Civil Engineers estimates that service interruptions and bottlenecks in the electrical power grid will cost businesses and households some $197 billion by 2020.
Expanding and modernizing America's infrastructure is an investment, not consumption. It not only creates economic value—it improves U.S. competitiveness.
Most Americans take these things for granted until there are problems: Carcinogens show up in our drinking water; the air traffic control system hiccups, tying up air traffic; a highway bridge collapses; New York City experiences a blackout. Then they notice.
The Chinese understand how important it is to get there from here. As a consequence, they're investing heavily in infrastructure, adding a reported 56 new airports in the next five years alone and 186,000 miles of new roads, among other assets.
Roads, bridges, ports, airports, air traffic control, and electricity and information distribution systems don't maintain and expand themselves. Washington must make them a priority. The longer we wait, the more it will cost.
Before it's here, it's on the Bloomberg Terminal.
LEARN MORE