business
ForumWatch: MBAs for Older Students
Francesca Di Meglio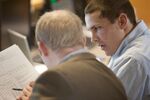 Many aspiring MBAs wonder whether they are too young or too old for business school. After all, full-time MBA programs tend to favor people who have a certain amount of work experience but are still in their mid- to late 20s or so. Thirty and up seems over the hill to some candidates. And executive MBA programs, designed for older executives seeking senior management roles with their current employer, aren't really suited for career-changers, who typically gravitate toward traditional two-year programs. So what kinds of programs are right for older applicants who have more work experience but want to make a career change?
These questions bring many people to the Bloomberg Businessweek Business School Forums. Recently, nishant4381, a 31-year-old engineer interested in a corporate strategy career in the high-tech industry, asked about the chances of someone with this profile getting into B-school and which programs to aim for. One participant suggested one-year programs in Europe, while another recommended part-time and executive education programs. How would you respond? Share your thoughts at the "Options for older candidates" discussion thread.
Editor's Note: This blog post is part of a series about discussions taking place on the Bloomberg Businessweek Business School Forums, where prospective MBA program applicants, current students, and recent alumni trade admissions tips, job-hunting advice, and the occasional barbed comment. We invite you to join these discussions or start one of your own.
Before it's here, it's on the Bloomberg Terminal.
LEARN MORE