An Epic Journey to a Disappearing World
Alison Damast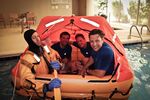 On July 15, a small boat will quietly depart in the early morning from the small town of Inuvik, Canada, launching four rowers on a frigid 1,300-mile journey across the Arctic Ocean until they reach the shores of Russia. For the next 30 days, the 29-foot-long, 6-foot-wide boat will be home to four experienced adventure athletes, three of whom have MBA degrees. They'll be using their leadership and teamwork skills to help them survive what they hope will be the world's first nonstop, unsupported row across the Arctic Ocean.
The expedition, dubbed Arctic Row, is the brainchild of Paul Ridley and Collin West, two MBA students who graduated from Northwestern University's Kellogg Graduate School of Management in June. Ridley is no stranger to long-distance rowing, having spent 87 days in 2009 rowing solo across the Atlantic, the youngest American on record to complete the journey. When he got to Kellogg, he was itching to do another rowing adventure and found a compatriot in West, a fellow athlete and national champion adventure racer whom he met the first week of school. Ridley suggested they attempt to row the Arctic Ocean, the smallest and shallowest of the world's oceans, which up until a few years ago would have been impossible to row because of the sheets of ice that covered the water. Due to global warming, a route had opened that would make it possible for a small rowboat to navigate the choppy water.
"Doing something that hasn't been done before is attractive because there aren't many opportunities out there in exploration or the adventure world to do something unique," says Ridley.
West was game for the challenge, and the two spent the first year of their MBA program figuring out the logistics of pulling off such a feat. They realized they'd need more than two rowers to man the boat and launched a national search to find two other athletes to join their team. They settled on Neal Mueller, a 2008 Wharton MBA graduate who has swum the English Channel and climbed the world's seven biggest mountains, and Scott Mortensen, a filmmaker who's climbed Mount Everest and biked across the U.S.
They recruited Mortensen because they want to make a documentary about their journey that will allow viewers to see firsthand the dramatic impact climate change has had on the famous Northwest Passage and to learn about the financial implications of a melting Arctic. Sea ice loss in the Arctic Ocean has been accelerating in the past decade. For example, recent ice loss rates have been 100,000 to 150,000 square kilometers per day, more than double the usual rate, according to the latest data from the National Snow and Ice Data Center in Colorado.
"The route we are doing was literally impassable six or seven years ago, and now we won't even encounter that much ice while rowing," says West. "This is a way for us to go up there, see the change with our own eyes, and show an audience what we find."
Getting the team in place was just the first hurdle. The logistics of planning a voyage like this was daunting, from finding a boat that could double as a home to scoping out corporate sponsors who could help them raise the $130,000 needed for equipment, gear, and dehydrated food supplies, among other things. They managed to secure sponsors such as Eddie Bauer, Dermatone, and Body Glide as well as raise $30,000 from family and friends through an online fundraising campaign. Says West: "Arctic Row is just like running a startup."
In their spare time on the boat, the Arctic Row team will be busy filming footage for their documentary, blogging and tweeting about their adventures, and doing research for Russell Hopcroft, a professor at the University of Alaska Fairbanks' Institute of Marine Science. They'll be collecting zooplankton samples, small organisms that serve as food for larger fish, that will help Hopcroft define how the number and species composition of zooplankton are changing both seasonally and over the long term as a result of climate change and loss of sea ice.
Michelle Buck, a clinical professor of management and organization at Kellogg and director of leadership initiatives, says she has been impressed by the teamwork and collaborative problem-solving skills that West, a student of her's this past spring, and the others have deployed to organize the expedition. She also applauds the group's larger mission to raise awareness about climate change, energy innovation, and the environment.
"Many people may think of this as a heroic feat that is very physical, but this is something bigger than that," she says. "We teach our students to think bravely. This feels to me like a classic Kellogg MBA student who leverages an opportunity to increase understanding of an important issue."
Follow the Arctic Row team's progress in Bloomberg Businessweek's Getting In blog, where team members will be posting updates every week starting next month.