Finance Minister of Greece: The World's Worst Job?
Ex-banker Vassilis Rapanos must revive a swooning economy
Nick Malkoutzis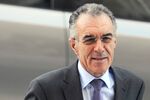 (Rapanos resigned his post on June 25.)
Antonis Samaras was beaming on Wednesday when he was sworn in as Greece's new prime minister. His continued happiness will depend on the effectiveness of his surprise choice as finance minister, Vassilis Rapanos.
Even before Samaras took his oath as head of a three-party coalition, it was already known that the president of National Bank, Greece's largest lender, would take over at the Finance Ministry. Rapanos was the first appointment to be confirmed, reflecting the importance his role will carry for the coalition led by Samaras's conservative New Democracy party.
Greece's economy is contracting for the fifth year in a row, tax revenues are drying up, bank deposits are flowing out of the country, opposition to austerity measures is growing, and the European Union and International Monetary Fund are having reservations about whether to continue lending money to Athens. Rapanos has considerable work to do at home and abroad.
The 64-year-old economist has been teaching about public finance at Athens University since 1992. He also has plenty of experience in how Greece's public sector and international organizations work. He was a member of the state-run OTE telecommunications company and served as an adviser to the Finance Ministry. He also has been counselor to the permanent Greek delegation to the European Union and deputy head of the Greek delegation to the OECD. "His experience gives him a good knowledge of the country's economy and its structural problems," says Stavros Lekkakos, chief executive officer of Piraeus Bank, Greece's fourth-largest lender.
"Rapanos is a figure that could inspire some trust," says Ilias Siakantaris, Skai TV and radio business correspondent. "He's not an imposing personality but more of a consensus builder that may be able to manage all the stakeholders involved in the Greek program."
Unusually for a technocrat, Rapanos also has a strong political background, having been jailed by the military dictatorship for four-and-a-half years in 1969 because of his membership in a left-wing resistance group. His anti-junta background and his experience in the financial sector give Rapanos a broader appeal and an advantage in taking tough political decisions. "He is one of the most suitable people for this role, as he can speak to both the right and left," says Yiannis Tsarmougelis, an economics professor at the University of the Aegean.
Greece's first goal will be to convince its euro zone partners to give it more time to meet its bailout terms so fiscal targets can be relaxed and spending cuts eased. There is a feeling that Greece's negotiating hand has been strengthened as a result of the euro crisis spreading to a major economy such as Spain, and that Rapanos should try to use this to the country's advantage. "His aims should be to broaden the scope of the bailout renegotiation, especially in view of the package being prepared for Spain, and to seek an extension of the program—not with a view to easing up on fiscal targets but to allow for structural reforms, which he should pursue more vigorously," says Tsarmougelis.
Rapanos, who has held positions in banking since the mid-1990s, will also oversee the €48 billion ($60.3 billion) recapitalization of Greek banks, which came under further pressure over the last couple of months because of large deposit withdrawals and the restructuring of Greece's public debt. The recapitalization was held up by national elections held in May and June. An average of about €3 billion a month has been pulled out of Greek banks since the start of the crisis in late 2009, but withdrawals have shot up over the last two months due to the political uncertainty.
"The top item on his agenda should be to set the rules for share-capital increases as part of the recapitalization process," says Lekkakos. "This will dictate whether the private sector will take part in the recapitalization. If it does, this will be huge vote of confidence in the Greek economy and will help reduce the debt."
It all amounts to a very tall order for Rapanos, who already appears to be feeling the weight of his responsibilities. Greece's new finance minister could not be sworn in on Friday, as scheduled. Rapanos was rushed to a hospital in Athens after he complained of stomach pains and feeling faint. Officials at the hospital said he was feeling better and is likely to be discharged on Monday or Tuesday morning.
Before it's here, it's on the Bloomberg Terminal.
LEARN MORE