Why Pixar Employees Wear Kilts on Fridays
By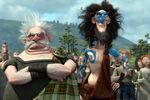 Working at Pixar Animation Studios can be just as whimsical and adorable as the movies the studio creates. When Mark Andrews came on as the director of the movie Brave in late 2010, the part-Scottish animator and filmmaker took the project to heart and instituted a new office policy: Kilt Friday. Andrews talks to Bloomberg Businessweek about the Scottish fashion staple, the animation culture at Pixar, and why it's important to always remember to cross your legs.
Why did you institute Kilt Friday?
I have been wearing my kilt for every party or event that Pixar has since I got out to Pixar 12 years ago. So I was already doing it because I'm very proud of my Scottish heritage. Every once in a while I'd come into work with it on. When they asked me to jump on Brave and take over directing, some of the animators had already started wearing kilts. So I said fine, every Friday is Kilt Friday, get in the spirit. A lot more people bought kilts, and we were all wearing them. It's just one of those great morale boosters to show your commitment to the project, the pride that you're working on this. It started spilling over to other departments. They wouldn't wear kilts, but on Fridays they'd come in with tartan ties or tartan plaid shirt.
How many kilts do you have?
I had four before Brave and now I have six. I'm going to Scotland in a week and I'm going to buy my seventh.
And your animators were randomly wearing kilts before you even got there?
They were animating people in kilts for Brave, so they bought some so they could see how it moves, feel how it moves, what it did when you bent your legs or ran. They'd film themselves in the kilts for reference, but then it caught on and they started just wearing them. This was a pride thing.
You've got to be careful at work, though. You have to cross your legs when you wear a skirt at work.
Yes, that's something I learned really fast when I got my kilt. There are new things you have to learn when you're wearing this: how you tuck it in when you sit down, that sort of thing. There is a little chafing on the buttocks because it's made out of wool. But you can get lighter-weight wools nowadays, so there's not as much chafing. And there's also pleats in there to make them waterproof. They're very versatile—not necessarily the short kilts that we think of today, which is the filibeg, but the breacan féile, or the "great kilt," which is the stuff they wore in Braveheart. It has a robe or a sash, which could also be used as a coat.
I heard you made up the tartan for the movie Brave?
Yes. We're creating this fantasy version of historical Scotland, and we didn't want to be locked down to any particular plaid or tartan. And the families, they don't know what their tartans were way back when because the kilts were outlawed with the 1745 uprising of [Bonnie] Prince Charlie. It was illegal. So they had to kind of create it anew.
Do Pixar's animators do this sort of stuff for every movie?
The animators like to go through what they call "The Ugly Phase," where they will all start growing beards or mustaches (or both) as they get close to the end of the project. Then, when there's about two weeks left, they start shaving them in weird and awkward ways and see how long someone is willing to leave themselves looking like that in order to win prize money. There's always goofy things that everybody does at Pixar—games that we play to keep the morale up, parties and things. But they're different per project; they're themed for the movie you're working on. Like for Monsters University, which is coming out next year, everybody had to bring in their college picture. So now they have this wall of what they all looked like in college, which is funny as hell.
Before it's here, it's on the Bloomberg Terminal.
LEARN MORE