The Case for Private Partnerships for Sustainable Development
Gib Bulloch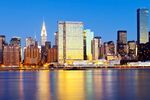 At every sustainable-development conference, debate, or keynote presentation, public-private partnerships (PPP) are touted as a panacea for the enormous challenges the world is facing. Rio+20 is no exception. There was even a day focusing on how businesses can navigate the alphabet soup of United Nations agencies to help address issues surrounding malnutrition, energy access, and maternal health.
I strongly believe that as the worlds of the private, public, and nonprofit increasingly converge, PPPs will be crucial for sustainable development.
But let's be honest. These relationships are very challenging to make work. Deep distrust lingers between the different sectors. Moreover, aligning objectives between a cash-strapped UN agency or NGO incented on income and a private sector obsessed on short-term outcome is often difficult to reconcile
Public-private partnering is in vogue, but far less attention has been paid to "private-private," or B2B, relationships in a development context. These partnerships are commonplace in many commercial efforts. They cut across several industries and disciplines. No oil major, for example, would dream of investing its billions in a country without a complex network of alliance partners to bring complementary capabilities or to offset risk.
So why does business still view sustainable-development challenges through the lens of vertical industry silos such as consumer products, technology, financial services, or pharmaceuticals? Issues such as access to energy, water, education, or health care do not respect geographic, industry, or corporate boundaries.
We need to move from a silo mindset to a system mindset. Couldn't the small farms that supply SABMiller or PepsiCo benefit from a tailored micro-finance product from a major bank? Or couldn't the technology from a mobile-phone operator be used to improve the distribution of medicines for Big Pharma in Africa? It's business working collaboratively with business to make money while solving societal problems.
There are no quick fixes. Who should convene these cross-industry "private-private" partnerships? What individuals, institutions, or business networks have the lateral mindset and skills to operate horizontally as opposed to just in their vertical comfort zone? And how might government-aid dollars or NGO know-how be used to spur such new forms of collaboration between business where, heaven forbid, profit to shareholders may be a necessary byproduct?
None of these challenges are insurmountable. In the end, shareholders will benefit and so will society.
Before it's here, it's on the Bloomberg Terminal.
LEARN MORE