business
Pressure Builds on China to Ease Home Buying
By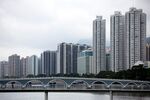 Will China's officials try to reverse a slowing economy by easing up on tight property ownership policies? That is the question analysts, investors, and household buyers are all now mulling. And it has a new urgency as Beijing's economic-boosting efforts to date are having limited effect. Those include three reductions in bank reserve requirements since last November and a cut in interest rates on June 7, the first time since 2008.
"There has been constant push from some quarters for the central government to ease the current restrictions on the property sector," says Hong Kong-based Tao Wang, an economist at UBS Securities in a June 21 research note. "Restrictions on purchases should be relaxed for high-end residential properties in first-tier cities," said a proposal by members of the Chinese People's Political Consultative Conference, a government advisory body, the China Daily reported on June 20.
The home-ownership restrictions are intended to cut down on speculation and keep home prices from rising too high too fast. The Chinese authorities have reined in all kinds of sales but particularly multiple purchases by a single buyer, as well as luxury property. The idea is to keep overall prices within the reach of more people and prevent any dangerous, destabilizing bubbles that might wreak havoc when they deflate. To date, Beijing has shown little willingness to bend, even as China's economy grew just 8.1 percent last quarter, its slowest pace in almost three years. Indeed, efforts in recent months to loosen housing policy in such localities as Wuhu in Anhui province and Foshan, in south China's Guangdong, have been quickly squashed by central authorities.
Following dismal April economic numbers, including those showing disappointing trade, investment, spending, and output, China responded by announcing subsidies for energy-efficient household appliances and autos, more loans to small businesses, and accelerated approvals for infrastructure, including airports, high-speed rail, and water conservation. It also greenlighted two massive but long-delayed steel expansion projects. On May 20, Premier Wen Jiabao called for "greater emphasis on growth."
That effort was quickly dubbed a "mini-me" stimulus by Standard Chartered, comparing it with China's massive 4 trillion yuan stimulus launched in 2008. "The State Council [China's cabinet] is introducing a measured but still significant set of stimulus measures, which should begin to affect growth in August-September," wrote Stephen Green on May 28. Green is Standard Chartered's regional head of research for Greater China. "We do not currently look for interest-rate cuts or explicit central-government loosening of real-estate policy, but these will come in Q3 if the economy is not responding."
But since then—even following the early June interest rate cut—there has been no sign of any sustained turnaround for the economy. Indeed, over just the past few days, the release of still-falling May housing prices, a disappointing survey of business confidence, and another survey showing a still-declining manufacturing sector have brought little cheer.
On June 18, China's National Bureau of Statistics announced that property prices fell in May, further extending the slump that began last fall. Of China's 70 major cities, a record 54 reported drops, with Guangzhou and Shanghai falling 1.6 percent over a year ago, Shenzhen by 2.3 percent, and in the hard-hit eastern city of Wenzhou, a 14 percent drop. Total sales, however, increased for the first time this year, rising 19 percent, to $59 billion, in May.
That was followed by the release a day later of a quarterly survey of business confidence published by China's central bank. The results, drawn from 20,000 households, 5,000 businesses, and 3,000 banks, show that confidence about economic conditions today, as well as in the future, is weakening. "Business confidence has deteriorated again this quarter, loan demand has dried up, and most households are unusually concerned about their income prospects," say Mark Williams and Qinwei Wang of Capital Economics in a June 19 research note.
One positive note emerged, however, when households were asked about the property market: "There appears to have been some thawing of sentiment, which tallies with evidence of a pickup in sales. More now expect prices to rise in the next quarter," according to Williams and Wang.
Still, not everyone expects Beijing to reverse its tight housing stance soon. "The central government will likely continue to resist pressure to reverse property policies in the near term, unless the economy [takes] a nose dive, either because of a collapse in export demand or a further sharp slowdown in domestic investment," says Wang.
Instead, Beijing will continue to take other steps to boost the economy. Wang points to the fact that the China Banking and Regulatory Commission has recently asked banks to start lending again to national infrastructure projects, including railways, and so-called social housing—subsidized housing aimed at China's lower-income people. "Both the central and local governments are intensifying efforts [on] all fronts to try to increase investment," says Wang in the June 21 note.
Others are less certain that will be sufficient. They point to the fact that China's investment-led growth, particularly since the global financial crisis, has always relied heavily on housing—in 2011, real estate made up 9 percent of gross domestic product, estimates Nicholas Lardy, senior fellow at the Peterson Institute for International Economics in Washington, far higher than the 6 percent reached in the U.S. at its peak.
"With further housing market corrections and sluggish land sales, local governments have the incentive to introduce various measures to circumvent the property tightening measures," says Zhu Haibin, a Hong Kong-based China economist at JPMorgan Chase, writing in a note on June 18. "The conflict of interests between the central and local governments could intensify in the coming quarters."
"A surge in real estate projects played a big role in China's return to strong growth in 2009," wrote Capital Economics' Williams and Wang in a June 22 note. "Without this support, it will be more difficult for the government to turn growth around."
Before it's here, it's on the Bloomberg Terminal.
LEARN MORE