Mitt Romney's Platitudes on Immigration
By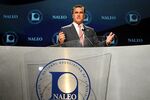 Mitt Romney struck a far more conciliatory tone on immigration this week than he's taken in a long time. Referring to reform of the immigration system as "not just a moral imperative, but an economic necessity," Romney told a group of Latino elected officials: "We owe it to ourselves as Americans to ensure that our country remains a land of opportunity—both for those who were born here and for those who share our values, respect our laws, and want to come to our shores."
The speech has raised some eyebrows because during the GOP primary season, he didn't exactly go around crusading for comprehensive solutions to the country's complex immigration problems. Of all the candidates, in fact, Romney took the hardest line on immigration. He vowed to veto the Dream Act, which would make high school graduates who came to the U.S. before they were 16 years old eligible for citizenship. And he said he favored "self-deportation," the idea that illegals will simply cross back over the border when they can't find work here (which is a subtext of the punitive laws passed by such states as Arizona and Alabama). Romney's stance earned him the endorsement of Kris Kobach, the anti-immigration activist who authored Arizona's law.
Romney's campaign billed Thursday's speech as his "strategy for bipartisan & long-term immigration reform." Yet there was nothing in it that actually outlined what the long-term future of some 11 million illegals would look like under a Romney presidency. Instead, he offered up a policy tweak by promising to exempt the spouses and minor children of legal permanent residents from visa limits, and he issued generic pledges to cut "bureaucratic red tape" and "update" temporary worker programs. Romney did say he'd help illegal immigrants who serve in the military attain citizenship. (That would affect about 30,000 people, according to Frank Sharry of the immigrant-rights group known as America's Voice.) But Romney stayed mum on what he thinks should happen to those who came to the U.S. before age 16, many of whom would get two-year reprieves from deportation under President Obama's recent policy change.
In short, Romney's tone on immigration may have softened, but he gave almost no indication that his views have changed substantively since the primary.
Before it's here, it's on the Bloomberg Terminal.
LEARN MORE