Greece vs. Germany: The Real Fireworks Come After the Soccer Match
Nick Malkoutzis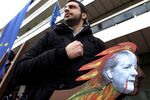 Greece takes on Germany in the quarterfinals of the European soccer championship on Friday. Fate could not have produced a more enticing match: Greece is the tournament outsider, Germany one of the favorites. But it is the subtext to the game that has sent the media into a spin.
In what some have billed the "debt derby" or "bailout cup," Greeks suffering under two years of austerity pushed by German Chancellor Angela Merkel have the chance for some sporting, and perhaps poetic, vengeance. That the game comes just a week before a European Union leaders' summit, where Greece will ask for more favorable bailout terms, adds to the tensions. "Dear Greeks, today we cannot rescue you," read the taunting headline in Germany's tabloid newspaper Bild on Friday morning. "Bankrupt them," blared the front page of Sport Day newspaper in Greece.
The euro crisis has forced two countries whose modern histories have been inextricably linked—at least since Bavarian Prince Otto was installed as the King of Greece in 1832—dangerously apart.
In Germany, patience has worn thin with Greece's inability to meet the fiscal and reform targets set as part of its euro zone and International Monetary Fund bailout. An opinion poll by Forsa earlier this month indicated that 49 percent of Germans want Greece to leave the euro zone. A wide-ranging survey by the Pew Research Center last month found that Germans think Greeks are the least hardworking people in Europe. (In fact, the numbers show Greeks work longer hours than Germans, though they are less productive.)
While the Greeks and Germans undoubtedly have divergent views of the crisis, some experts argue that populism in both countries has exacerbated this split. "There are real differences in the way the two countries approach economic and European issues," says Christos Katsioulis, who is the director of the Friedrich Ebert Stiftung, a German political foundation that reopened its office in Athens earlier this month after seven years. "We can't get over these differences because of communication problems. There is a tendency in the media and among some politicians to rely on stereotypes, because this is the easy route."
In Greece, there is increasing skepticism about Germany's role. The Pew poll suggested that 78 percent of Greeks have an unfavorable opinion of Germany and 84 percent think Merkel is doing a bad job dealing with the crisis. In February, a nationalist anti-austerity party called Independent Greeks was founded in the village of Distomo, where Nazi troops massacred 218 locals in 1944. One of the party's main policies is to demand Second World War reparations from Germany. Independent Greeks won 7.5 percent of the vote and 20 seats in Parliament in Sunday's elections.
In this climate, Friday's soccer match could deliver another damaging blow to relations. Merkel is due to the attend the game, but her opposite number, Prime Minister Antonis Samaras, will not be there after managing to form a government only on Thursday. The symbolism of a despondent Merkel after a German defeat or a celebrating chancellor following a victory could be powerful. But there are hopes that ties between the two countries are too deep to be affected by the game. About 300,000 Greeks are living in Germany, and Greece exports about 10 percent of its products there, while German investors have been eyeing opportunities in Greece over the past couple of years.
"Socially and economically, there's a good basis for improving relations," says Katsioulis. "We need to reconnect through the European framework. Greece has to reform, but the Germans also have to understand that not every country in Europe can be like Germany. They have to approach Greece like a partner, not a misbehaving child."
History shows that the two countries have found ways to put their differences behind them. Ravaged by the Nazi invasion, Greece signed the 1953 London Agreement providing debt relief to a Germany seeking to rebuild after World War II. Greece was also the first country to extend, in 1953, an official invitation to a postwar German president. Athens was the first city in the world where Germany established its state-run Goethe cultural institute. A rehabilitated and growing Germany provided hundreds of thousands of jobs in the 1950s and '60s for Greeks trying to escape the country's previous worst economic crisis, in the 1950s. Currently, language courses at the Goethe Institute in Athens are oversubscribed as young Greeks improve their skills in the hope of studying or working in Germany.
Friday's soccer result is unlikely to shake the intertwined fates of these two countries. Instead, they will come under severe strain over the next few weeks and months as Greece tries to renegotiate the terms of its bailout and Germany watches closely to see if the new conditions are met or whether the euro ties should be severed.
Before it's here, it's on the Bloomberg Terminal.
LEARN MORE