About That Dan Gilbert Guarantee on LeBron
You cannot take it to the bank.
By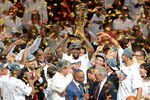 Two years ago, when LeBron James decided to take his talents to South Beach, he left behind a very bitter Dan Gilbert in Cleveland. The Cavaliers owner and Quicken Loans founder fired off a now legendary e-mail calling James "heartless and callous," among other things. He also guaranteed, in Comic Sans all-caps, "THAT THE CLEVELAND CAVALIERS WILL WIN AN NBA CHAMPIONSHIP BEFORE THE SELF-TITLED FORMER 'KING' WINS ONE." Adding, perhaps unwisely for a man who made his fortune in mortgage lending, "you can take it to the bank."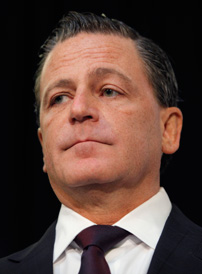 James and the Miami Heat won one on Thursday night. And David Stern crowned James NBA Finals MVP for his regal performance. Gilbert has been quiet except for a tweet, in Twitter's standard Helvetica, congratulating "Miami & OKC for an exciting Finals."
To be fair, Gilbert made his foolhardy guarantee in a moment of intense emotion. James's departure added to decades of Cleveland sports heartbreak and probably cost Gilbert about $140 million in lost franchise value. But Gilbert never backed away from it. When I asked him about it a few months later, just before the Cavs' first game of the post-LeBron era, he said this: "You can always make statements about the future and they either will or will not occur. So certainly you could say that was, I guess, added motivation … for this entire franchise and city. Me putting that out there kind of even puts a little bit more pressure. But at the end of the day, we'll wind up seeing what happens."
Don't expect more from Gilbert now. He's not one for reflection. At the back of the Quicken Loans corporate handbook, Gilbert has a list of 25 things he's learned in 25 years. No. 11 is: "Any ounce of energy you spend 'regretting mistakes you made in the past' is taking away energy you need from doing things right in the present." So James probably won't be getting a call from Gilbert, but from the look of things, he's already read the part of the Quicken handbook where Gilbert advises: "Ignore the noise: Will you allow noise to keep you from winning? Noise could be from naysayers, something going wrong … ball took a bad bounce … A lot of things that seem serious at first glance turn out to be noise." That you can take to the bank.