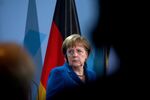 "Merkel didn't really promise anything, but the fact that she even mentioned it as a possibility is a shift in tone of rhetoric, especially post-election," said Brian Kim, a currency strategist at Royal Bank of Scotland Group Plc's RBS Securities unit in Stamford, Connecticut, in a telephone interview. "It makes me wonder if we're going to see more comments showing that Germany is starting to come around a little bit."
—Joseph Ciolli and Catarina Saraiva, "Dollar Fluctuates as Fed Extends Maturities, Merkel Comments," Bloomberg News, 20 June 2012, 2:39 PM.
Others "wonder," too.
First, it's getting old. Second, exactly how dumb do they think the public-at-large is?
Mr. Kim, he of the shop that has absolutely nailed the recent strong euro, "wonders" if the elite and less-elite of Germany are a little bit coming around.
They, various and sundry I speak to, are "wondering," too. The key distinction is the peripheral timeline. All have run out of the luxury of "starting to."
There is not a moment to lose.
There can be no more starting to. Market and @twitter vigilantes will act, even, are acting. We need, now, a change in tone of rhetoric. Discuss.
Before it's here, it's on the Bloomberg Terminal.
LEARN MORE