The Fiscal Cliff Just Got Steeper
By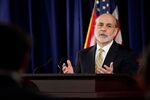 The Federal Reserve's announcement yesterday that it is extending "Operation Twist" through the end of the year means the economy will get a much-needed (though probably modest) boost: The Fed will sell an additional $267 billion of short-term bonds and buy long-term bonds in an effort to push down long-term interest rates. The idea is to spur investment and possibly lower already record-low mortgage rates.
But note the program's new expiration date: Dec. 31, 2012. That's the date when the U.S. economy faces the so-called fiscal cliff of expiring Bush tax cuts paired with automatic spending cuts under the budget sequester, a prospect that already has begun to worry business and political leaders. The extension of Operation Twist means that additional stimulus to the economy is now scheduled to be withdrawn at exactly the same time—so the fiscal cliff has just gotten steeper.
As the Wall Street Journal's editorial board griped, "Just what the economy needs: Another temporary stimulus that may or may not end when the powers in Washington claim it will."
The difference is that the Fed, thank goodness, doesn't need to rely on Congress to act in order to extend monetary support beyond the end of the year. (Although Ben Bernanke made clear at his news conference yesterday that he would like very much for Congress to take steps of its own to stimulate the economy.) Still, the move adds to what is already a great deal of uncertainty about what will happen to the economy come January.
Before it's here, it's on the Bloomberg Terminal.
LEARN MORE