Microsoft Melds Windows Phone 8 With Windows 8
Kevin C. Tofel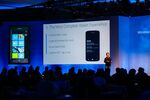 Microsoft previewed Windows Phone 8 to developers on Wednesday at its Windows Phone Summit event, showing off new features and a key strategy for the new platform. Windows Phone 8 will share a common core of code with Windows 8 on desktops and laptops, much like Apple has used OS X as the core of its iOS software. The new smartphone software makes it easier for developers to create one app for both platforms while also adding additional hardware features to let Microsoft better compete in the heavily contested smartphone market.
Windows Phone Vice President Terry Myerson introduced the overall strategy, saying: "We want Windows Phone to be personal, relevant to the user through sensors and data, and the most connected experience, betting on the cloud."
A greater range of hardware should be expected, as the shared core can scale up or down from phones to full computers. More important: Developers on one platform can move their apps to the other with ease, providing a stronger ecosystem for consumers. Hardware drivers, for example, can be used on both platforms.
Here's a rundown of the key features that will appear on Windows Phone 8 devices this fall:
• Multicore-chip support on Windows Phone, with a focus on dual-core optimizations initially to balance battery life and performance
• Three screen resolutions supported: 800 x 480, 1280 x 768, and 1280 x 720
• Removable microSD memory card support for photos, music, videos, and application installations
• Internet Explorer 10 with the same rendering engine on phone or desktop, providing a similar experience and one set of code for Web developers
• Improved HTML5 support and up to 4x JavaScript performance compared with Windows Phone 7
• Native code game development between desktop and phone, based on DirectX
• Improved support for NFC (near field communication) with the "most complete wallet experience": credit/debit cards, loyalty cards, saved deals, and NFC payments. Secure SIM elements can be used instead of a dedicated secure element integrated in the phone.
• Nokia's map technology will be used, adding offline map support, map control for developers, and more.
• For business, Windows Phone 8 supports BitLocker encrypting and secure boot, in-house app deployment with signed apps, and improved device management.
The final platform change is Microsoft's new start screen that's far more customizable. Tiles can be one of three sizes, representing Myerson's comments about Windows Phone 8 being personal.
Overall, these changes are precisely what Microsoft needs to help kick-start its Windows Phone sales. The early handsets have earned solid reviews, but they are taking a long time to gain both market share and mind share. Is some of Windows Phone 8 a "catching up" to iOS and Android? Absolutely, but these are still welcome improvements.
The biggest news, however, is something that consumers won't quite see yet but will still benefit from: the shared core code between Microsoft's mobile and desktop platforms. This should result in not only better hardware choices but also a stronger application ecosystem and unified experience among phones, tablets, and other Windows computers.
But there is a downside. Existing Windows Phone devices will not get the new operating system. Paul Thurrott notes that instead, these phones will get the new start screen in a direct update from Microsoft called Windows Phone 7.8. That's bad news for Nokia Lumia 900 owners and others who have purchased a Windows Phone of late.
Also from GigaOM:
Why LTE in the iPhone Matters (subscription required)
Orbitz Launches New iPhone App, Bets on Mobile Growth
How Far Is Too Far to Invest? Your Plane's Wi-Fi May Dictate New Growth
You Think the Internet Is Big Now? Akamai Needs to Grow 100-Fold
Nonprofit Sues Delaware Governor, Regulators Over Bloom Energy Deal
Before it's here, it's on the Bloomberg Terminal.
LEARN MORE