MBA Alumni in the News: June 21
Louis Lavelle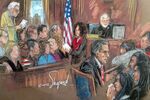 Each week Bloomberg Businessweek brings you an update on how MBA alumni from top business schools are making news—the good, the bad, and the ugly. This week, graduates from Harvard, Kellogg, Stern, and Booth were among those making headlines:
On the Grill: Jamie Dimon, the JPMorgan chief executive who has come under fire for his bank's $2 billion trading loss, was grilled by a Senate panel for more than two hours on June 13. Dimon, who has an MBA from Harvard Business School, told the senators that a new formula for estimating possible losses underestimated the risk created by the trades, which he described as part of a hedging strategy. During his testimony he also said the bank will likely seek to reclaim pay from executives who were responsible for the trades.
Convicted: Rajat Gupta, a former McKinsey managing partner and director at Goldman Sachs and Procter & Gamble, was convicted by a federal jury on June 16 of leaking inside information to hedge fund manager Raj Rajaratnam. Sentencing is scheduled for Oct. 18. Gupta was swept up in a nationwide crackdown on insider trading that has so far resulted in 62 convictions. Gupta's MBA is from Harvard Business School; Rajaratnam's is from the University of Pennsylvania's Wharton School.
Just Say No: In a nonbinding vote, 60 percent of investors in WPP, the world's biggest advertising agency, rejected as $18 million pay package for Chief Executive Martin Sorrell, which included a 56 percent increase. Sorrell, a Harvard Business School MBA, is the latest executive to face such a vote in a growing shareholder revolt over executive compensation.
Promotion: Prudential Financial named Scott Sleyster, an MBA from Northwestern University's Kellogg School of Management, as chief investment officer. In his new role he'll be responsible for $330 billion in assets.
The MBA Board Slate: Billionaire investor Carl Icahn, Forest Laboratories's biggest investor, is mounting a second proxy fight at the company and has nominated four directors to the board. Three of them are MBAs: Eric Ende from New York University's Stern School of Business, Pierre Legault at McGill University's Desautel Faculty of Management, and Daniel Ninivaggi from the University of Chicago's Booth School of Business.
Another Hat: J.C. Penney Chief Executive Ron Johnson, a Harvard Business School MBA, is taking over marketing and merchandising at the retailer following the departure of President Michael Francis. Francis's exit came on the heels of a marketing strategy that flopped with shoppers. Johnson, who worked at Target and Apple before joining Penney, is trying to shift the company away from a pricing strategy that involves almost constant discounting.
Exhausted: Paul Sinclair, a Los Angeles fund manager and MBA from the Stanford Graduate School of Business, announced he was liquidating his $458 million health-care equities fund, Expo Capital Management. Sinclair said the fund has had losses for a second year and that the job has left him "physically and mentally exhausted."
Calling It Quits: Esprit Holdings Chief Executive Ronald Van der Vis, an MBA from Manchester Business School, quit the apparel retailer. His departure was followed by that of Chairman Hans-Joachim Koerber. Analysts say Van der Vis's resignation was a serious blow to the company's turnaround plans. In September, Esprit reported a 98 percent decline in fiscal-year profit and said its brand had "lost its soul."
Yard Sale?: Lou D'Ambrosio, CEO of Sears Holdings, said he was open to the idea of selling assets to turn the company around. "We have an asset-rich portfolio," he said in a Bloomberg Television interview on June 13. "We are evaluating whether assets are more valuable inside or outside the portfolio." D'Ambrosio has an MBA from Harvard Business School.
Join the discussion on the Bloomberg Businessweek Business School Forum, visit us on Facebook, and follow @BWbschools on Twitter.
Before it's here, it's on the Bloomberg Terminal.
LEARN MORE